On a Sunday where friends and family gather to watch footballs' most prestigious event, eat good food, and drink too many adult beverages, bowlers in North Dakota have other plans. For several years, Super Bowl Baker Doubles has been on the schedule for many of the states best bowlers. Being a week before the seasons' final major, the KFYR TV Bowling Classic, bowlers use this tournament as a final tune-up.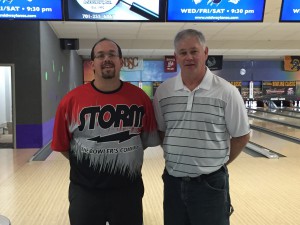 The tournament consisted of 16 scratch baker games on the 2015 KFYR TV Bowling Classic test pattern. 29 doubles teams entered the one day event that has become a local favorite. Early in the day, scores were pretty mediocre as bowlers tried to find their way around the pattern put together by Jack Nelson of Midway lanes. As the tournament progressed, the scores seemed to improve but remained in check for the most part.
In a 16 game baker tournament, the doubles teams who could remain consistent and avoid the tournament killing game garnered the advantage. The model of consistency for this years event was Aaron Petrowitz and Barry Zimmerman. Having a high game of 259 and a low game of 191, the two raced out to a 200 pin lead through 12 games. Past champions Matt Smallin and Daren Seney mounted a late charge the last 4 games going +150 to finish at +260, but came up well short of Petrowitz/Zimmerman finishing at +380.
A big thank you goes out to Jack Nelson and Midway Lanes for hosting another great event. NDBowling.com will be back at Midway Lanes next weekend for the KFYR TV Bowling Classic. Unfortunately, the KFYR TV Bowling Classic will NOT be on NDBowlTV. I have had several questions asking if NDBowlTV will be covering this event. The KFYR TV Bowling Classic will go live at noon on Sunday on all Western North Dakota NBC stations.
Thank you for visiting NDBowling.com!
Please connect with us on social media to stay up to date with NDBowling.com