The 2017 NDBPA State Scratch Doubles tournament was held this past weekend at North Hill Bowl in Minot. 26 teams entered for a chance at one of the more coveted doubles titles in North Dakota.
Bowling began Saturday with all teams bowling 12 baker games. Kyle Niess and Tracy Tofteland shot 300 game 12 of the baker round to claim the top overall spot after day 1. The combo shot a 12 game total of 2624 (218.66 Ave).
Day 1 Results
On Sunday, all bowlers returned to bowl 8 individual games to determine not only a doubles champion, but the singles option champion as well. The Sunday charge was lead by Aaron Petrowitz and Barry Zimmerman. Zimmerman/Petrowitz were the only team to place both players in the top 10 of the singles option on Sunday. The duo survived a late push by past champions Travis Hersrud and Eric Kempel to claim the title with a 6145 total. (219.46 ave)
Doubles Final Results
The singles title was claimed by Tracy Tofteland who shot 994 his final 4 games on Sunday to post an 8 game total of 1844 (230.5 ave). Great bowling Tracy!
Singles Results
NDBowling.com was launched in October of 2012. Since then, 6 NDBPA State Doubles and 5 Super Bowl Doubles tournaments have been held. Of the 11, Aaron Petrowitz has been on the winning side of 5.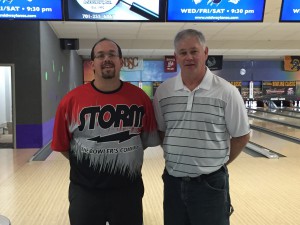 2012 – Super Bowl Doubles (Duane Sandvick)
2013 – NDBPA State Doubles (Jack Nelson)
2015 – Super Bowl Doubles (Barry Zimmerman)
2016 – Super Bowl Doubles (Barry Zimmerman)
2017 – NDBPA State Doubles (Barry Zimmerman)
It may be safe to say that Petrowitz is the ultimate doubles partner, but the last 3 years have shown the combo of Petrowitz and Zimmerman may also be the new gold standard among teams. Great bowling!
Shout out to the host center, North Hill Bowl for once again providing another well run tournament.
Find us on Facebook
Follow us on Twitter
Subscribe to us on YouTube (NDBowlTV)
#ThanksBen