NDBowling.com has been covering the NDBPA State Scratch Doubles event since 2012. This past weekend marked the 7th NDBPA Scratch Doubles tournament covered by the High Plains Bowling Network. In those 7 tournaments, 7 different winning combinations have left the bowling center as champions. The latest to add their names to that list? Doug Wagner and Brad Nordick.
The tournament started on Saturday at Sunset Lanes in Moorhead, MN where 18 teams bowled 12 baker games on a modified 2016 USBC Open Doubles and Singles pattern. Leading the baker round was Jeremiah Smith and Jon Breckel. Smith/Breckel posted a 12 game total of 2492 and were just 1 of 3 teams to shoot plus in the baker round. (Wagner/Nordick, Smallin/Seney)
On Sunday, the difficult pattern and low scoring pace once again challenged bowlers during the individual portion of the tournament. All bowlers bowled 8 games with the high 2-day pin total determining the winner. Doug Wagner lead all bowlers on Sunday. The former Wichita State product fired an 8 game total of 1720 (215 ave), which was 64 pins clear of the field. His partner, Brad Nordick, contributed a 1528 effort which was 11th out of 36 bowlers competing. The duo fired scores of 448 and 471 the final two games of the tournament to claim a 153 pin victory.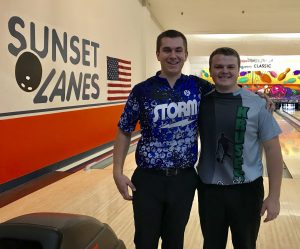 The win gives Wagner/Nordick their first NDBPA State Scratch Doubles title. Congratulations!
Top 5:
1 – Doug Wagner/Brad Nordick – 5724
2 – Jeremiah Smith/Jon Breckel – 5571
3 – Eric Kempel/Travis Hersrud – 5557
4 – Dillon Meyer/Eric Parvey – 5553
5 – Jack Folstrom/Scott Handlos – 5459