Over the years, the Manitoba Open has developed a classification as one of the toughest NDBowling.com Majors to win. The Open is the only Major to carry a 10 game qualifier in the opening round. The more games you bowl, the likelihood increases that your better bowlers will rise toward the top. So when the entries dip below 90 and only 24 advance, the strength of the field advancing to match play on Sunday increases dramatically. Pair that with a reduced number of match play games (8) and you have a Sunday sprint among the best in the region. While many will argue the level of difficulty among the NDBowling.com Majors, everyone will agree that the performance by Wade Scott this past weekend was more than impressive.
The tournament kicked off on Saturday at Chateau Lanes in Winnipeg with 72 bowlers in attendance. All bowlers bowled 10 qualifying games on the 40′ tournament condition, Abbey Road. Dominating the qualifying round was Wade Scott. Having posted a score of 2319 (231.9 ave), the 49 year old lefty lead all bowlers and claimed both the $150 qualifying bonus and an early lead in the Can-Am challenge. The cut line for the top 24 was Jeremiah Smith at 2054 (205 ave).
On Sunday, the top 24 split into 3 groups of 8 and bowled round robin matches with the winners receiving 20 bonus pins. After dominating the qualifying round, Wade Scott provided more of the same on Sunday. Wade ran the table in match play going 8-0 (including a 300 in game 5) which earned him the top overall seed in the finals on NDBowlTV. Joining him in the finals were Mitch Hupe, Matt McNiel, Zach Wilkins and the defending champion Andy Mills.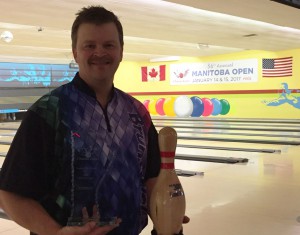 Stepladder Finals:
Wilkins def. Hupe 194-188
Wilkins def. McNiel 232-200
Mills def. Wilkins 225-203
Scott def. Mills 203-193
You can watch the entire NDBowlTV show by clicking HERE
Complete Standings:
Qualifying Page 1
Qualifying Page 2
Match Play
Congratulations to Wade Scott on his victory at the 36th Manitoba Open. The victory gives Scott his first NDBowling.com Major title. Being able to win a Major is a difficult task in itself, but doing so by dominating the tournament wire to wire is more than impressive. A special thanks goes out to Melody Savage and the entire staff at Chateau Lanes for running another great event and making all bowlers feel welcome. Thank you to Mike Boroskae for once again joining us in the booth on Sunday to call the action on NDBowlTV.
Stay tuned to NDBowling.com this week as we will preview the Morris Anderson Memorial Shootout. We will also be running another contest on our Facebook page this week to give away some great products from Turbo 2-n-1 grips.
Thank you all for visiting NDBowling.com and congratulations again to Wade Scott!