The annual trip North took place this past weekend for NDBowling.com. 62 bowlers made their way to Winnipeg, Manitoba for the 38th installment of the longest standing NDBowling.com Major.
On Saturday, all bowlers bowled 10 games across the 30 lane center. The lane pattern of choice was the 2013 USBC Open Team Pattern. The 41 foot pattern provided a test for a rather strong field of bowlers. Leading the way was Michael Larson out of Fargo/Moorhead with a 2206 10 game total. The cut to the top 24 was Earl Sobotkiewicz with a 1984 total.
Sunday featured a round robin match play round where the 24 qualifiers were separated into three groups of 8. Bowlers received 20 bonus pins for each win. The position round provided most of the fireworks as Larson posted a 254 game to vault himself into the top 5 for the NDBowlTV show. In a battle for the coveted top seed, 6-time Open champion Micheal Schmidt defeated 2013 Open champion Eric Parvey to claim the top spot on NDBowlTV by 12 pins. The top seed must be beaten twice in the championship match. Final 5: Michael Schmidt, Eric Parvey, Dillon Meyer, Felicia Wong, and Michael Larson.
NDBowlTV Results:
Wong def. Larson 205-177
Wong def. Meyer 209-195
Parvey def. Wong 200-195
Parvey def. Schmidt (Game 1) 233-189
Parvey def. Schmidt (Game 2) 247-193
WATCH HERE:
NDBowlTV Part 1
NDBowlTV Part 2
(Our power supply was cut mid way through the first championship game, so we had to restart the stream and two files were created)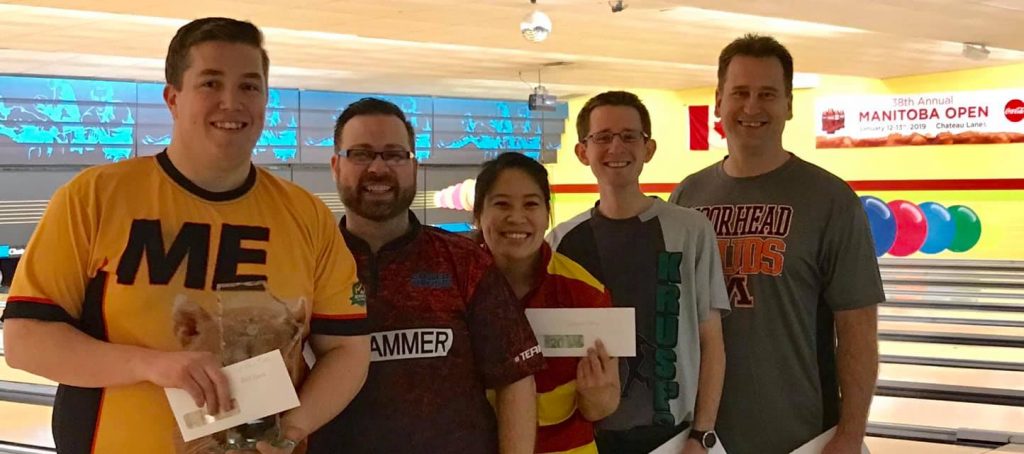 Congratulations to Eric Parvey on winning the 2019 Manitoba Open! This is Eric's 2nd Manitoba Open title (2013) and 4th NDBowling.com Major (2010 CMA, 2013 Open, 2015 NDBowling.com, 2019 Open).
Parvey joins a short list of bowlers with 4 or more NDBowling.com Major titles.
(Major Championship Tournaments: Manitoba Open, CMA Shootout, KFYR TV Bowling Classic, NDBowling.com Classic)
– Michael Schmidt 7 (6-Manitoba Open, 1-NDBowling.com)
– Dave Schick 5 (3-NDBowling.com, 2-KFYR)
– Jeff Smith 5 (4-Manitoba Open, 1-CMA)
– Daron Hansen 4 (3-Manitoba Open, 1-CMA)
– Mike Morris 4 (1-Manitoba Open, 3-NDBowling.com)
– Eric Parvey 4 (2-Manitoba Open, 1-CMA, 1-NDBowling.com)
Thank you to Melody Savage and the entire staff at Chateau Lanes in Winnipeg for providing another great tournament for all of us to bowl. Can't say enough good things about the staff and all of the volunteers who make this tournament what it is each year. Also, thank you to all of the sponsors for supporting this great event.
NDBowling.com will be heading to Minot, ND in a couple weeks for the Morris Anderson Memorial Shootout. NDBowlTV will stream the finals on Sunday. Be on the lookout for a preview article sometime next week.