The USBC Open Championships usually mark the end of the bowling season for many of us here in North Dakota. For Team NDBowling.com, that is the case due to our team bowling the tournament in late May. Last season, team NDBowling.com shot plus (3000+) in team event but knew that with the bowlers we had on the team, a much better score was possible.
It all began on Monday afternoon. Team NDBowling.com took part in the Track Showcase Lanes for the second consecutive year. Our plan for the showcase lanes was to throw dull over a particular part of the lane. After throwing on the condition for an hour, our team decided that the lanes broke down very well and that our plan gave us the best chance to score.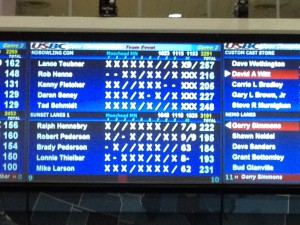 Going into the event, I (Daren Seney) knew I was the 'X' factor in how far our team could go. In 3 USBC Open Championship appearances, I have not shot higher than 556 in team event, and that was something I wasn't very proud of. As of roughly 5 hours before our team event started Tuesday evening, I didn't feel very good about the state of my game. I hadn't shot well at either the Bowlers Journal or 40-Frame tournaments, and did not feel comfortable at all. I then found myself in the pro shop at the National Bowling Stadium. Knowing I had a void in my arsenal, I stood pondering the purchase of a new bowling ball. I then met Phil Roberts, pro shop operator in the Ebonite/Columbia 300/Track booth. After deciding to purchase a Columbia 300 Eruption Pro, Phil took the time to examine my game very closely. We did a complete re-fit of my grip including spans and pitches. Not knowing how the ball would react or how it would clear my hand was something I was concerned about, but I took the jump and prepared for team event that evening.
Going into the event, the team was relaxed and determined to have a good time. After throwing dull equipment in a specific part of the lane, I decided to give the Eruption Pro some lane time. After throwing it for the first time in practice, a new found confidence overwhelmed me. As the team event progressed, I could tell that my confidence and energy was something my teammates and the companion team were able to feed off of. That confidence led to games of 1023, 1115, and 1153 for Team NDBowling.com and games of 1048, 1118, and 1025 for our companion team Sunset Lanes 1. Scores of 3291 and 3191 were both team bests for our group of guys.
Team NDBowling.com (3291)
Lance Teubner – 678
Rob Henne – 599
Kenny Fletcher – 591
Daren Seney – 708
Tad Schmidt – 715
Team Sunset Lanes (3191)
Ralph Hennebry – 596
Rob Pederson – 621
Brady Pederson – 645
Lonnie Thielbar – 612
Mike Larson – 717
After the completion of the team event, many of us gathered at a local establishment and talked about the event. Many noted that it was the most fun they've ever had in Team even at the Open and I couldn't agree more. We have a great group of guys and I feel like we can continue to make noise at the USBC Open for years to come.
I would like to make a quick shout out to Phil Roberts in the Ebonite/Columbia 300/Track booth. He took the time to closely examine all parts of my game to set me up for success and is a true professional. I recommend all bowlers to visit him. I look forward to speaking with you again in El Paso next season.
So how do you know when you've 'made it' as a team at the USBC Open? When USBC Open Championships Singles record holder Bo Goergen looks at you and says. "hey you're those NDBowling.com guys right?" Why yes, yes we are!
I would like to thank all the guys that joined me in Reno and helped represent NDBowling.com!
Thank you all for following along with us and supporting NDBowling.com this season.