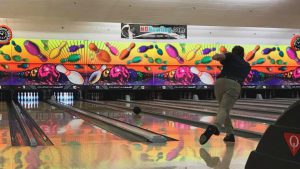 The 2017 NDBowling.com Kickoff Classic took place this past weekend at Sunset Lanes in Moorhead, MN. This tournament marks the official start to the 2017-2018 NDBowling.com Player of the Year race.
On Saturday, 28 bowlers made the trip to Sunset Lanes with most of the entries coming from 2 or more hours away from the FM area. The entries may have been on the low side, but the skill level of those participating did not disappoint. All bowlers bowled 8 games on the tournament condition Abbey Road. At the conclusion of qualifying, Tim Frenz claimed the top spot with a 1716 total (214.5 Average). The cut to the top 8 was Jack Nelson with a 1656 total (207 Average).
On Sunday, the top 8 returned for round robin match play with the top 4 advancing to the stepladder finals. Brady Stearns lapped the field by throwing urethane while everyone else chased the pattern in with reactive. Stearns posted an 8-0 record in match play and a 2139 total (includes 30 pins bonus per win). Stearns claimed the top spot in the stepladder finals followed by Thomas Wolf, Tim Frenz, and Ted Staikoff.
Stepladder Results:
Frenz def. Staikoff 183-180
Wolf def. Frenz 213-172
Stearns def. Wolf 257-202
At the conclusion of the championship match, Stearns decided to move about 30 left and throw reactive for his fill ball. Naturally, it was dead flush. Further proving that the best bowler won that day.
The win gives Brady Stearns his first NDBowling.com Kickoff Classic Title. Great bowling Brady!
Thank you to all bowlers to made the trip to Moorhead. Also, shout out to the staff at Sunset Lanes for hosting another well run tournament. Please keep an eye on the Rankings page as we will be updating the current standings to reflect the Kickoff Classic Results.