North Hill Bowl was the site for the 2014 Hemi Bowl this past weekend. With one of the most unique formats of the season, the Hemi-Bowl redefines a commonly used phrase, 'the luck of the draw'. It was the luck of the draw that paved the way for a household name to capture the title.
The format for the Hemi-Bowl mimics that of the NFL. The tournament consists of 2 conferences and 3 divisions in each conference. Bowlers would bowl 8 games of qualifying. Following the qualifying round, the division winners in each conference would advance along with 3 wild cards in each conference. The top two division winners in each conference would receive a first round bye in the playoffs. At tournament sign up, bowlers drew their respective divisions and the tournament was underway.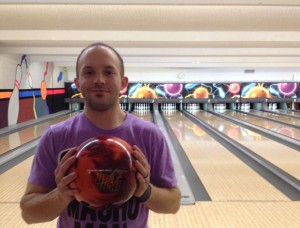 For as long as I have bowled this event, there always seems to be a very strong division of scores along with a division with a very weak set of scores. This allows someone with a not so good day to advance to the playoffs while another bowler who bowled very well may not have been so lucky. This season was no different. This season, it was a tale of two conferences. One conference required a score of +122 to advance to the playoffs while the other conference required a score a shade over +40 to advance. The beneficiary of this was Matt Smallin. Smallin experienced a sub-par qualifying round but was still able to sneak into playoffs of his respective conference.
In the playoffs, Smallin turned it up. Smallin defeated Chris Martin and Mike Green in the first two matches to set up a Semi-Final match with Eric Kempel. Kempel and Smallin both struggled in the match, but Smallin advanced with key multi-pin spare conversions late in the match. This set up a championship match between Matt Smallin and Derrick Holman. Smallin missed once in the first 9 frames and left no doubt in the title match by posting a winning score of 266. The win gives Matt his second victory of the season. (Carrington 8 Game Singles) Nice bowling Matt!
The Hemi-Bowl was named in the honor of the late NHB Pro Shop Operator Kris Hemstad. Hemstad was always full of witty sayings and inappropriate jokes that left NHB visitors laughing for hours. The 2014 edition of the Hemi Bowl was just as Kris would have wanted it to be. Bowlers were laughing, drinking, being loud, and having a good time.
Once again, congratulations to this seasons Hemi-Bowl champion, Matt Smallin! Thank you for visiting NDBowling.com and tune in Thursday for the latest edition of NDBowling.com Bowler Spotlight!