The final tournament of the 2012 calendar year took place at North Hill Bowl in Minot, ND this afternoon. 58 bowlers made the trip to the magic city for the 37th Annual 10 Game Marathon. This tournament is normally used by many as a final tune up before the biggest tournaments of the season. With 58 bowlers entering, this tournament provided one of the best single day tournament turnouts of the year.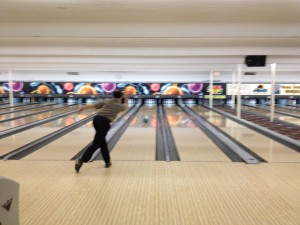 All bowlers bowled 10 games with the overall pin total determining the final standings. Early on, strikes were hard to come by and only 9 bowlers posted games of 200 or better after game one. As the day went on, the bowlers who remained consistant and converted on spare opportunities were generally the ones who ended up on top of the leaderboard. After 3 games, 8 bowlers were plus and Scott Thoms led the way shooting +97. The demanding oil pattern began to open up as more and more games were bowled, and one bowler in particular took advantage of this in a big way. Matt Smallin of Minot, ND entered game 7 in 4th place at +48. Smallin would then post games of 268, 244, and 268 to open up a commanding lead going into game 10. Smallin would go on to shoot 189 in game 10 to seal the victory. The win gives Smallin his second victory of the season. Nice bowling Matt!
1 – Smallin +217
2 – Thoms +165
3 – Harris +132
4 – Yarborough +89
5 – Schmidt +68
Please check the "Results" tab as final results from this event will be posted later.
Thank you to all bowlers who made the trip to Minot today. Be sure to check out our upcoming events tab as some of the most exciting tournaments of the season are right around the corner. NDBowling.com will be heading to Canada next weekend for the Manitoba Open in Winnipeg. We will be providing live updates as they become available (pending service availablility). If we are unable to post live udates, day one results will be posted on Saturday night. Thank you all for visiting NDBowling.com and congratulations to Matt Smallin on his victory today.
Feel free to post comments below.