The 33rd annual KFYR TV Bowling Classic was held this past weekend at Midway Lanes in Mandan. Another sold out field of 120 bowlers took on the custom 43 foot pattern for a chance at the $2000 top prize.
Saturday featured an 8 game qualifying round where the top 30 at days-end would advance to the Match Play round on Sunday. Leading all bowlers was 2-time KFYR Champion Matt Smallin. Smallin fired a 1833 8 game total to take home the 55″ TV for being the high qualifier. The cut to the top 30 was Chad Broeckel with a 1621 total.
Saturday night featured the traditional banquet inside the lounge at Midway Lanes. A meal catered in by Apple Creek Country Club was provided to all entrants. Numerous door prizes were given away throughout the night, and the evening was capped off with the announcement of the top 30 qualifiers.
Sunday's Match Play round featured a battle at the top between Thomas Wolf and Harold Holt. The two separated themselves from the field for a good part of the day and Wolf was able to edge out Holt for the #1 overall seed on the KFYR TV Finals. The final 5 included Wolf, Holt, Matt Smallin, 2017 Champion Mike Green, and Mike Larson.
KFYR TV Finals: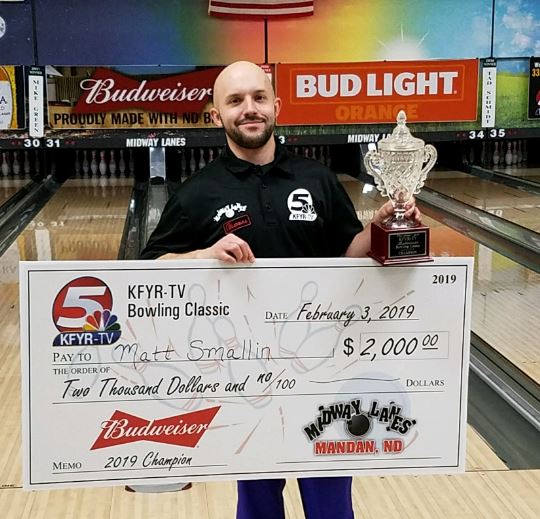 Larson def. Green 183-175
Smallin def. Larson 242-172
Smallin def. Holt 246-228
Smallin def. Wolf 266-214
Congratulations Matt! The win gives Smallin his 3rd KFYR TV Bowling Classic title tying him with Jack Nelson and John Juba as the only bowlers to have won 3 KFYR titles. No bowler has ever won 4. Smallin also joins a short list of bowlers with 4 or more NDBowling.com Majors (Michael Schmidt, Dave Schick, Daron Hansen, Eric Parvey, Mike Morris, and Jeff Smith).
Shout out to Jim Mellon, Jack Nelson, Darin Helbling and the entire staff at Midway Lanes for running another great event for the bowlers. Big thank you to all the sponsors who help make this tournament happen every year.
Check back for updates to the Player of the Year race on the Rankings tab.