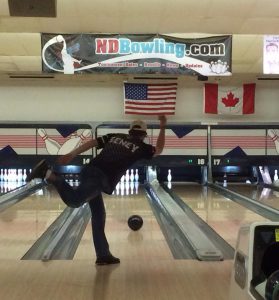 The 10th Annual 8 Game Singles was held this past weekend in Carrington, ND. As a local favorite among bowlers, this tournament usually fills at 32 bowlers within the first week following the release of the poster each season. This season was no different as a full field of 32 bowlers traveled to Central City Lanes for a shot at the $600 top prize.
All entrants bowled 8 games across the 8 lane house with the high pin total winning. At the end of the day, it was Daren Seney coming out on top with an 8 game total of 1713 (214.12 Ave). Trailing the leader by 64 after game 5, Seney rallied with scores of 226, 216, and 233 the final 3 games to take home the title and his first win of the season.
Shout out to Randy Peterson and the entire staff at Central City Lanes for once again hosting a great tournament.
Note from NDBowling.com Owner Daren Seney:
I always wondered what I would do in the rare event that I would win a tournament and have to write about it on NDBowling.com. Let me tell you, it is about as awkward as you could imagine. I didn't even have the presence of mind to to get a picture from the event (picture above is from a different tournament). I guess you could say the articles are a little better when I don't win. #YouHadOneJob
At any rate, shout out to those who have supported me and the website over the years. Big thanks to Shawn Morris and everyone at Ebonite International for providing the best products on the market. The Hammer Scandal Pearl and the Ebonite Gamebreaker 2 Phenom got the job done today.
#TeamEBI
#TeamNDBowling
#BowlToWin