NDBowling.com traveled to Winnipeg, Manitoba for the first of four Major Championships this season. Bowlers were forced to battle the elements as snow, wind, rain, and ice covered the region on Friday making travel extremely dangerous. Major highways in and around the metro were closed down Friday night leaving several entries in doubt.
78 Bowlers found warmth inside Chateau Lanes on Saturday for the opening round of the Manitoba Open. All bowlers would bowl 10 games of qualifying on Saturday with the top 24 returning for Sunday's second round.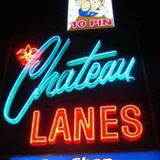 The lane pattern of choice was Kegel's Beat'n Path. This lane condition has been known to yield high scores and the first few games confirmed that on Saturday. Both Eric Kempel and Matt McNiel started off the event shooting 300 and claimed a share of the perfect game jackpot. As the day went on, the cut line grew to near 100 over. Justin Schiffler earned the qualifying leader bonus of $150 by shooting a 10 game total of 2299. Schiffler also claims the early lead in the Can-Am Challenge. The cut to make the top 24 was North Dakota's Ron Morlock at 96 over (209.6 Average).
On Sunday, 24 bowlers were split into 3 groups of 8. Each bowler would bowl round robin matches within their group with the winners of each match receiving 20 bonus pins. Like Saturdays Qualifying Round, the scores on Sunday were just as high. With only 8 Games of match play, the sprint was on with little margin of error available. 4-time Open Champion Mike Schmidt took the scoring pace to a new level. Schmidt averaged 248.13 on Sunday en route to winning 7 of 8 matches. With bonus pins, Schmidt finished with a score of 2125 and the top seed in the stepladder finals. Joining Schmidt in the finals were Zack Wilkins, Joe Franchewski, Matt McNiel, and Matt Meyer.
Stepladder Results:
Match 1: Meyer 249 – McNiel 203
Match 2: Franchewski 203 – Meyer 180
Match 3: Franchewski 210 – Wilkins 203
Championship: Schmidt 254 – Franchewski 214
With the victory, Schmidt captures a record 5th Manitoba Open title and ties Dave Schick with 5 career NDBowling.com Major Championship wins.
Notable Locals:
Eric Kempel (10th Place)
Matt Smallin (15th Place)
Jack Nelson (19th Place)
Ron Morlock (21st Place)
Zack Wilhelmi (24th Place)
I would like to thank Melody Savage and her staff at Chateau Lanes for running a great tournament this season. The field of bowlers and prize fund available is one of the best in the region. Thank you to all bowlers who braved the elements to bowl this season.
The excitement continues in a couple weeks at the Morris Anderson Memorial Shootout in Minot. Some exciting story lines going into this tournament.
– Will there be a 2-time winner? 10 Different winners in 10 years at the Shootout.
– Who will win the Can-Am Challenge? Schiffler leads field of 15 after Manitoba Open.
– Who will take the early lead in the NDBowling.com Challenge? $350 added prize money!
– Player of the Year points race.
Thank you for visiting NDBowling.com and we hope to see many of you in Minot at the Morris Anderson Memorial Shootout!