North Hill Bowl played host to the 7th Annual King of The Hill Tournament on Sunday Afternoon. A field of 30 bowlers from around the region entered for a chance at winning a free entry to the Morris Anderson Memorial Shootout in January.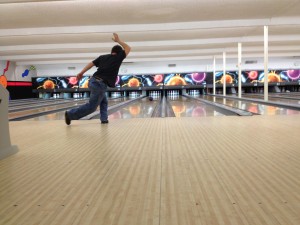 The event started with a 6 game qualifying round. The top 16 after 6 games would be put into a double elimination bracket to determine the winner.
During the 6 game qualifying round, the scoring pace was set very high. Honor scores were shot by Matt Smallin (300), Ryan Selk (816), and Blake Wallstrum (300, 300) Once the dust settled, Aaron Petrowitz claimed the #1 overall seed in the bracket with a 1476 6-game total (246 ave)
Once the 16-person bracket was determined, single game matches began across 16 lanes. In the first round, 4 of the top 5 seeds lost, and many matches came down to the final frame. After several rounds, Tad Schmidt and Daren Seney matched up in the winners bracket final, and Duane Sandvick and Justin Burgess in the consolation bracket. Schmidt defeated Seney in a match where both bowlers struggled to get the corner pins out. On the consolation side, Sandvick defeated Burgess by putting together a key string of strikes late in the game. Sandvick then moved on to face Seney for a spot in the finals vs Schmidt. Sandvick was able to avoid opens and defeated Seney to advance. In the final, Schmidt made quality shots and closed the door on Sandvick with a few emotionally charged strikes late in the game. With the victory, Schmidt earned a spot in the Morris Anderson Memorial Shootout along with prize money. Great bowling Tad!
For qualifying results, please click on the "Tournament Results" tab.
Thank you to all who attended this event. Next on our schedule is the NDBPA State Scratch Team event in Jamestown. NDBowling.com will be there to provide live updates as they become available. Hope to see everyone there!