Team NDBowling.com member Tad Schmidt walked into North Hill Bowl on Sunday looking to fine tune his game for the upcoming Majors in Winnipeg and Minot, but left the bowling center with much more than expected.
The 40th annual 10 Game Marathon was held at North Hill Bowl in Minot, ND this past Sunday. 49 bowlers entered the event. The entries were down slightly from a year before, but many attribute that to the tournaments close proximity to the holidays. As in years past, the 10 Game Marathon was once again used to test out a pattern for the upcoming CMA Memorial Shootout. The pattern used was the same condition that was used at this seasons King of The Hill Tournament back in November.
All bowlers bowled 10 games with the high pin total winning the event and the $580 top prize. The lanes played just as difficult for the 10 Game Marathon as they did for the King of The Hill Tournament. The 2.19 to 1 ratio oil pattern pushed many bowlers out of their comfort zones in order to score. As the tournament progressed, spares became key as 180s and 190s were considered good games. For many bowlers, the 10 Game Marathon turned into a grind, but for Tad Schmidt it was just another day in the office.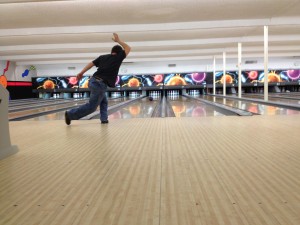 Coming off a 34th place finish at the King of The Hill Tournament on the same pattern, Schmidt looked to attack the lanes a little bit different this time searching for better results. Schmidt was off and running out of the gates posting a 253 game one and claiming the high game pot by over 40 pins. With the early lead, Schmidt kept striking and never looked back. Having only one sub-200 game, Schmidt raced out to a lead of over 100 and capped off the victory with another 240+ game. Congratulations to the 2015 Champion of the 10 Game Marathon, Tad Schmidt.
Tad is not only a a great bowler and NDBowling.com team member, but he is also a great friend of mine and sponsor of NDBowling.com. I look forward to watching Tad compete in Winnipeg this season. While the fan favorite in Canada is also a Schmidt (Mike), many may be learning about Tad if he bowls there like he did in Minot.
I would like to thank Jeff Kragh, Rory Selk and the staff at North Hill Bowl for running another great tournament. I would also like to thank Mike Green and Rory Selk for going out of their way and helping make the NDBowlTV show work despite a weak internet connection. The weak internet connection was the result of a minor miscommunication and the folks at North Hill Bowl helped with moving things around to make it work.
The 2016 10 Game Marathon will be held on December 18th, 2016 in Minot.
We will see you all in Winnipeg in two weeks!