NDBowling.com traveled to Williston, ND this weekend for the NDBPA State Scratch Doubles Tournament. This event marked the start of the NDBowling.com Tour. Bryan Goehring and his staff at Million Dollar Lanes hosted the event and raised $1000 for added prize money. 24 Doubles teams made the trip to the heart of the oil boom for a chance at the $2000 top prize.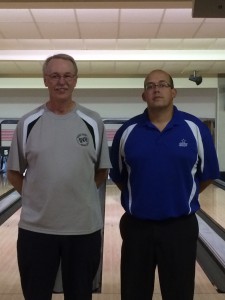 Fresh of a win in Rapid City, Eric Kempel entered the event as the defending champion with doubles partner Travis Hersrud. One year ago in Fargo, ND, the duo ran away from the field en route to a ND record 6th State Scratch Doubles Title.
All 48 players bowled 9 games across the 24 lane center with the highest pin total winning at days end. The lane pattern of choice was Kegel's Sunset Strip. The action began shortly after noon local time and the doubles team of Aaron Petrowitz and Jack Nelson wasted no time. The two fired games of 489 and 423 to grab the early lead. As the day progressed, the defending champions Hersrud/Kempel rallied to find themselves in striking distance with a few games to go.
Entering the final game, 4 doubles teams had a shot at winning the title. Petrowitz/Nelson, Seney/Smallin, Kempel/Hersrud, and Smith/Breckel were all within 15 pins. Nelson fired scores of 243 and 246 the final two games to help the pairing to scores of 457 and 456, and a 43 pin victory over Seney/Smallin. With the victory, Jack Nelson and Aaron Petrowitz claimed the top prize of $2000 and an early lead in the player of the year race. Nice bowling!
Scratch Doubles:
Petrowitz/Nelson – 3726 ($2000)
Seney/Smallin – 3683 ($1300)
Kempel/Hersrud – 3678 ($750)
Scratch Singles Option:
Jeremiah Smith – 1891
Wade Scott – 1890
Jack Nelson – 1879
NDBowling.com Player of the Year Points awarded:
Aaron Petrowitz – 15
Jack Nelson – 15
Matt Smallin – 10
Daren Seney – 10
Eric Kempel – 5
Travis Hersrud – 5