The 2019 NDBowling.com Classic took place at Sunset Lanes this past weekend. 54 bowlers entered for a chance at the $1400 top prize and the coveted Glen Hains Memorial Trophy.
Saturdays qualifying round featured an 8 game block on Kegel's Dead Mans Curve. The scoring pace took off as bowlers found a little more free hook than expected. Leading the way on Saturday was 2016 NDBowling.com Classic champion, Nick Heilman. Heilman fired an 8 game total of 1894 (236.75 Ave). The cut to the top 16 was 1695 (211.87 ave) which was shared by 3 players.
Saturday evening featured a meal provided by Sunset Lanes prior to the announcement of the top 16.
The top 16 bowlers returned to Sunset Lanes on Sunday morning for 8 games of match play. 2017 Champion, Andy Mills, lead the way posting a 6-1-1 record en route to claiming the #1 overall seed on the NDBowlTV Show.
Most of the drama would come in the position round. In the 7-8 match, Nick Heilman fired a perfect 300 game to vault himself into the NDBowlTV Show as the #4. In the 5-6 match, Jeremiah Smith stoned an 8 pin in the 10th frame to give Thomas Wolf a chance in the match. Wolf stepped up and struck out the tenth to defeat Smith and claim the #5 seed. Smith finished 7th despite posting the second highest scratch score on Sunday. (30 bonus pins for each win in match play)
Top 5 for the NDBowlTV Show: 1 – Andy Mills, 2 – Kayla Pashina, 3 – Rob Warren, 4 – Nick Heilman, 5 – Thomas Wolf.
NDBowlTV Results: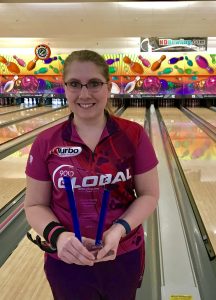 Heilman def Wolf, 224-214
Heilman def Warren, 214-198
Pashina def Heilman, 258-205
Pashina def Mills, 189-186
You can watch the entire NDBowlTV show HERE
Needing 9 to secure the title, Mills posted a 5 count on his final shot. Despite only throwing one strike in the first 9 frames, Pashina would go on to strike out the tenth to defeat Mills in one of the most exciting matches in NDBowlTV history.
With the win, Kayla Pashina becomes the first female to win the NDBowling.com Classic. Pashina also becomes the first female to win an NDBowling.com Major Title (113 NDBowling.com Majors contested since 1982). Congratulations Kayla!
A big shout out to Darin Sundstrom, Lonnie Thielbar, Mike Emerson and the entire staff at Sunset Lanes for hosting the NDBowling.com Classic once again.
Thank you to all the bowlers who traveled to the Fargo-Moorhead area to compete this weekend.
Mark your calendars for the 2020 NDBowling.com Classic which will be held February 29th-March 1st, 2020.