NDBowling.com was in Moorhead, MN this past weekend for the NDBowling.com Classic. With many changes in this event, the tournament has been looking to return to the glory days of a full 96 person field. This season, 49 bowlers made the trip to Sunset Lanes for a shot at the $1500 top prize and coveted major title.
On Saturday, 8 games were bowled to determine the top 16 who would advance to Sundays match play round. The lane pattern of choice was a modified USBC Open Championships pattern from 2013. The pattern provided a tough challenge to the very talented field of bowlers. Matt Meyer led qualifying by posting an 8 game total of 1868. The cut to top 16 was 1620.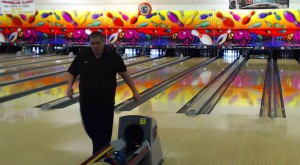 On Sunday, Matt Meyer continued to dominate by claiming the top spot on the NDBowlTV show followed by Eric Parvey, Mike Morris, Ryan Selk, and Aaron Petrowitz. Fueled by a late 7-bagger, Eric Parvey sneaked pass Meyer in the championship match to claim his first NDBowling.com Classic title. If you would like to watch the NDBowlTV coverage of the finals, please click on the link below.
The win gives Eric 3 career NDBowling.com Major Championships (Manitoba, CMA, Classic). Eric also becomes the first bowler to win 3 separate NDBowling.com Major Titles. Following a 2nd place finish in last seasons KFYR, Parvey will be looking to become the first player to complete the career grand slam at the 29th annual KFYR TV Bowling Classic Feb 8-9.
Next season, the NDBowling.com Classic will be moved to the first or second weekend in March. To help alleviate tournament fatigue, the decision was made to move this event in order to spread out some of the bigger tournaments and allow more people to attend them that normally can't get the time off to do so. If possible, we will be using one of the two patterns for that seasons USBC Open Championships. I would like to thank all bowlers who traveled near and far for supporting this event and NDBowling.com.
Once again, congratulations to Eric Parvey, 2015 NDBowling.com Classic Champion!
Contact NDBowling.com:
Daren Seney
Seney1987@gmail.com