The NDBowling.com Tour was in the Fargo/Moorhead area this weekend for the annual NDBPA State Scratch Team tournament. 17 teams made the trip to Sunset Lanes for an attempt to dethrone 2-time defending champion Team ND Storm (Schick, Peterson, Vander Vorst, Kempel). The lane pattern of choice was the 2012 USBC Open Championship (Baton Rouge, LA) pattern. Each team (4-man) would bowl 6 games on day 1 and 6 games on day 2 with high pin total winning the event.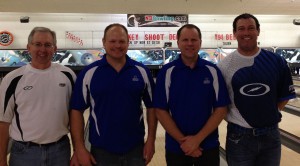 This is a tournament I look forward to each year. With the winning teams frequently totaling over 10,000 pins, the tournament always seems to come down to the last game, the last frame, or the last bowler. Once again, this seasons tournament came down to the wire.
The drama started late Sunday afternoon as Zutz Farms (Zutz, Hajicek, Petrowitz, Zimmerman) entered the final game with a comfortable lead of almost 100 pins. However, Zutz Farms drew lanes 1 & 2 the final game which had been giving teams fits all day on Sunday. Zutz Farms struggled early in the game but rallied to give themselves a chance at a decent score with a big 10th frame. Zutz Farms then encountered a days worth of bad breaks in the final frame as two pocket splits (including a 7-10) and a chopped spare left them with a score of 740 and the tournament in doubt.
A couple lanes down from Zutz Farms was 2-time defending champion Team ND Storm. Led by Dave Schick (262) and Eric Kempel (256), Team ND Storm posted a score of 899 the final game to overtake Zutz Farms by 61 pins. The attention shifted to the high end of the house where Team Sunset Lanes (Thielbar, Hennebry, Hersrud, Morris) were on pace for a potential tournament winning score of 950 with 2 bowlers left to bowl in the tenth. Sunset lanes came up short but posted a score of 900 which was good enough to pass Zutz Farms and finish in 2nd place.
Congratulations to Team ND Storm for winning their 3rd straight NDBPA State Scratch Team title!
NDBowling.com Tour Points Awarded:
Dave Schick – 15
Randy Peterson – 15
Bob Vander Vorst – 15
Eric Kempel – 15
Lonnie Thielbar – 10
Ralph Hennebry – 10
Travis Hersrud – 10
Mike Morris – 10
Ron Zutz – 5
Doug Hajicek – 5
Aaron Petrowitz – 5
Barry Zimmerman – 5
NDBowling.com Tour Standings
1. Eric Kempel – 30 Points
2(t) Travis Hersrud – 25 Points
2(t) Matt Smallin – 25 Points
2(t) Aaron Petrowitz – 25 Points
5(t) Jack Nelson – 15 Points
5(t) Wade Scott – 15 Points
5(t) Randy Peterson – 15 Points
5(t) Bob Vander Vorst – 15 Points
5(t) Dave Schick – 15 Points
10 Points – Daren Seney, Lonnie Thielbar, Ralph Hennebry, Mike Morris
5 Points – Kirby Weller, Doug Hajicek, Ron Zutz, Barry Zimmerman