Sunset Lanes has been the host to the NDBowling.com Kickoff Classic since 2016. Before making its move to Moorhead, MN, the Kickoff Classic was contested at Buffalo Lanes in Jamestown in 2014 and 2015. In its final season in Jamestown, Mike Morris needed the final frame to take down then defending champion Matt Smallin in the championship match. Fast forward 3 years and Morris once again found himself in the final frame of the NDBowling.com Kickoff Classic championship match seeking a similar outcome.
The tournament started on Saturday with 37 entries bowling 8 games on the challenge series pattern, Route 66. Leading the way was Jon Breckel with a qualifying total of 1808. Jon fired games of 245 and 289 early in the block on his way to leading 9 other bowlers into the Sunday morning match play round. The cut to the top 10 was Mike Larson at 1706 (213.25 ave).
On Sunday, Larson took advantage of sneaking into the cut by winning early and often in his matches. Larson would go on to build up quite the lead and claim the #1 seed for the stepladder. Joining Larson in the finals were Mike Morris, Jon Breckel and Eric Lund. Lund defeated 2014 champion Matt Smallin in the position round to vault himself into the #4 spot edging out Nikki Hersrud.
Stepladder Results:
Breckel def. Lund 254-202
Morris def. Breckel 237-181
Morris def. Larson 269-258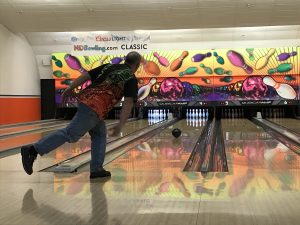 The championship match was an instant classic between two FM Bowling Hall of Fame members. Both Larson and Morris started the game with a spare followed by 7 consecutive strikes. With both players recording a 9 spare in the 9th, Morris stepped up in the tenth first and fired 3 consecutive strikes forcing Larson to do the same in order to tie. A 9 pin on the first shot in the 10th derailed Larson's bid for a Kickoff Classic Title. The win gives Morris his 2nd NDBowling.com Kickoff Classic win (2015).
Congratulations to Mike Morris on yet another victory!
We would like to send out a big thank you to Darin Sundstrom and the entire staff at Sunset Lanes for hosting this event the last 3 years. We hope to see everyone back at Sunset Lanes in Moorhead for the NDBowling.com Classic on March 2-3, 2019.
This weekend also concluded the Hammer Rebel Yell giveaway on our Facebook page. Zack Wilhelmi won the contest with a guess of 4809 which was the closest to Tom Daugherty's 24 game qualifying total at the US Open of 4810. Congratulations Zack!
Be sure to "LIKE" our Facebook page to stay up to date on other contests that are held.
***We will post complete results once they become available***