NDBowling.com is in the midst of its 3rd season covering some of the best bowlers in the region. For over two years, I have been fortunate enough to make note of some great events and career changing moments for many bowlers. This past weekend at the CMA Memorial Shootout was no different.
In one of the biggest tournament weekends in the region, the CMA Memorial Shootout has quickly become a premier event on the bowling schedule for many. 143 bowlers made the trip to Minot, ND this year for a chance at the coveted $5000 top prize. The lane pattern of choice was a modified Abbey Road which provided a tough test for a rather talented field of bowlers. On Saturday, the cut to the top 36 was +10. Leading the way in qualifying was Dave Langer. Langer posted an 8 game total of 1820 and earned a free entry into next season's Shootout.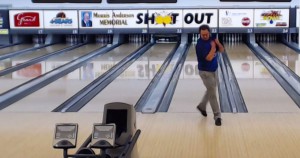 On Sunday, the grind continued. As the day went on, the bowlers near the top looked similar to that of the Manitoba Open one week ago. Clayton Mohr once again claimed the top spot on the NDBowlTV show followed by Nick Heilman, Michael Schmidt, Scott Endersbe, and Sam Lantto. Clayton Mohr captured his first Major title in one of the most exciting NDBowlTV shows to date which included a 300 game and an 800 series from Scott Endersbe. You can watch the entire show in HD by clicking on the link below.
NDBowlTV Show
Day 1 Sheet 1
Day 1 Sheet 2
Day 2 Final
Following the emotional victory by Clayton Mohr, I (Daren Seney) was able to reflect on the last two and a half years with NDBowling.com. I created this site to encourage bowlers to chase their dreams and compete at the highest level. With NDBowlTV, I feel as though the site has gone to another level. I am fortunate and blessed to be able to capture life/career changing moments for bowlers and allow them to go back and re-live those great moments whenever they want.
Congrats to Clayton Mohr on winning his first Major title. I think many will agree that it was long overdue and greatly deserved.
The excitement will continue next weekend in Moorhead, MN at the NDBowling.com Classic. We will crown another Major Champion and NDBowlTV will be there to capture it all.