The 2018 Manitoba Open was held this past weekend at Chateau Lanes in Winnipeg, MB. The frozen North once again greeted a rather strong field of bowlers to the season's first NDBowling.com Major of the season.
This season's Open featured a 10 game qualifying block on the challenge series pattern Beaten Path. 59 bowlers entered with the top 24 advancing to Sunday's Match Play round. Saturday's qualifying round was lead by Matt McNiel. McNiel posted a 2381 (238.1 ave) score to lead the field by 46 pins. The cut to the top 24 was Michael Makela with a 1987 (198.7 ave) score. Defending champion Wade Scott missed the cut by a mere 22 pins.
On Sunday, it as more of the same for McNiel. McNeil forged his way to a perfect 8-0 record in Match play to claim the #1 overall seed in the NDBowlTV finals. He was joined by Zach Wilkins, Mitch Hupe', AJ Chapman, and Ryan Savoy. 6-time Manitoba Open Champion Michael Schmidt missed the NDBowlTV show by 6 pins.
NDBowlTV Show:
Chapman def. Savoy 180-171
Hupe' def. Chapman 200-191
Wilkins def. Hupe' 203-177
McNiel def. Wilkins 257-188
You can watch the complete NDBowlTV show by clicking HERE.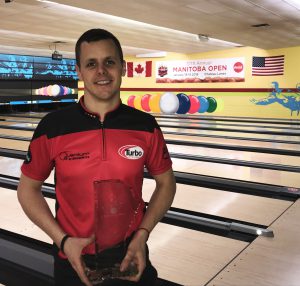 With the win, Matt McNiel claims his second NDBowling.com Major Title. McNiel won the Morris Anderson Memorial Shootout back in 2013. McNiel joins Eric Parvey, Daron Hansen, Jeff Smith, and Andy Mills as the only bowlers to win both the Manitoba Open and the Morris Anderson Memorial Shootout. Congratulations Matt!
A special thanks goes out to Melody Savage and the entire staff at Chateau Lanes for putting on another great tournament and being so welcoming to all bowlers. We would also like to thank Joe at Chateau Lanes for helping us fix our first on site breakdown at NDBowlTV. He was able to replace a chord needed to produce the show and it was business as usual.
Again, congratulations to the 2018 Manitoba Open Champion Matt McNiel!
Join us in 2 weeks at the Morris Anderson Memorial Shootout in Minot. You can catch the finals on NDBowlTV on January 28th.
Be sure to subscribe to our YouTube page (FREE!) to receive updates as to when we go live.