It was a cold and snowy weekend in Minot, ND, but that didn't stop 120 people from making the trek to North Hill Bowl for the 16th annual Morris Anderson Memorial Shootout.
Saturday's qualifying round was lead by Joseph Gourneau with an 1802 8-game total. Rounding out the top 30 was Ben Goede at 1598. While the pattern was the same as the 2018 Shootout, there was a new mix of players that advanced to Match Play.
Results:
Day 1 Page 1
Day 1 Page 2
Saturday night brought the annual Shootout banquet at the Clarion Hotel. Bowlers were treated to a taco bar while brackets and side pots were paid out and the top 30 were announced. Thomas Wolf took home the Can-Am Challenge with a total of 15 points.
On Sunday, all bowlers were separated into 3 groups of 10 for round robin match play. For most of the day, Brady Stearns and Jason Duran separated themselves from the field. Stearns would narrowly claim the top seed on NDBowlTV following the position round match with Duran. Joining them on NDBowlTV was Dan Langer, 2017 champion Nick Heilman, and Rob Warren. Warren used a 280 game in position round to jump from 10th into the finals.
NDBowlTV Results: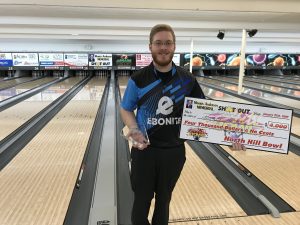 Heilman def. Warren 267-205
Langer def. Heilman 258-214
Langer def. Duran 204-138
Stearns def. Langer 265-181
Watch Here: NDBowlTV Show
Congratulations to Brady Stearns on winning the 2019 Morris Anderson Memorial Shootout. Stearns used a combination of the Hammer Purple Urethane and the Hammer Web Tour on Sunday en route to the title and the $4000 top prize. This is Brady's first NDBowling.com Major title.
A big thank you goes out to Jeff Kragh, Rory Selk, Renee Shirley and the entire staff at North Hill Bowl for running another great tournament and allowing NDBowlTV to cover the finals on Sunday.
Tune in later this week as we preview the 2019 KFYR TV Bowling Classic.