Central City Lanes played host to the annual 8 Game Singles event in Carrington, ND today. The central North Dakota location allowed bowlers from all over the state to attend this event on a weekend where the weather seemed to cooperate. With 4 people to a lane, a challenging oil pattern, and a wood lane surface, this tournament was a big test for a rather talented field of 32 bowlers.
Mike Larson of Fargo, ND used a late surge to edge out Aaron Petrowitz of Bismarck, ND by 2 pins for the victory. Early on, Larson was a non factor while struggling to put strikes together. Larson stayed in the tournament by converting spares and avoiding the tournament killing game. Once the lanes started to open up, Larson took advantage of it in a big way and grabbed the tournament lead after game six.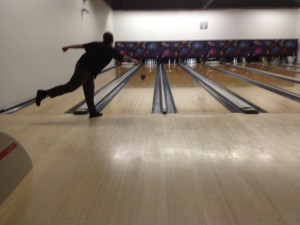 Entering game 8, Petrowitz and Larson were neck and neck. Larson started game 8 with a string of strikes, but an open in the 6th gave Petrowitz the opening he needed. Petrowitz got up in the 10th frame with a chance to close the door but could not convert. Larson edged out Petrowitz by 2 pins to earn his 1st win of the season. Nice Bowling Mike!
3 events will be taking place across the area next weekend. Be sure to check out our "Upcoming Events" tab to find the tournament that is right for you. NDBowling.com will be providing live updates from the 7th annual King of The Hill Tournament at North Hill Bowl in Minot, ND on Sunday. For live updates, please follow us on Twitter (@NDbowling) or visit the NDBowling.com homepage.
NDBowling.com would also like to wish everyone out there a Happy Thanksgiving!