The 10th annual King Of The Hill was held at North Hill Bowl in Minot, ND over the weekend. 53 bowlers entered for a chance at the $700 top prize and a free entry into the Morris Anderson Memorial Shootout in January. The tournament was used to test a lane condition for the Shootout. The pattern was a sport compliant condition that proved to be a test for many. While the pattern brought out frustrations for a good portion of the field, one bowler made it look easy.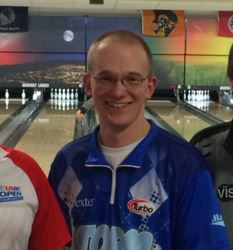 All bowlers bowled 6 games of qualifying with the top 16 bowlers advancing to a double elimination bracket. Jon Breckel lead the way in qualifying with a 1265. Jon was one of 3 bowlers to average over 200 in the qualifying round. The cut to the top 16 was -70.
In the bracket portion of the tournament, Breckel looked unfazed once again and proceeded to go undefeated en route to his first King Of The Hill victory.
Over the past 3 years here at NDBowling.com, I (Daren Seney) oftentimes get approached with questions regarding bowlers. Many will ask if I know this person or that person. I can easily say the one person people ask me about the most is Jon Breckel. Jon has what you would call a very unique approach. People will often point out Jon as if I do not know him. When they do, I like to inform them how hard Jon works at his game and how much he has improved over the years. In a field full of Major winners and Hall of Famers, Jon not only made it look easy, but he did so on a rather difficult lane condition. Jon proved this weekend that practice and hard work pays off in our sport. It doesn't matter how you bowl. Master your own craft and you can be successful. At the King Of The Hill this past weekend, people definitely noticed Jon. However, this time it wasn't about how he bowled but what he bowled.
I would like to thank Jeff Kragh and the staff at North Hill Bowl for running another great event.
Congrats to Jon Breckel, the 2015 King Of The Hill champion. A win for one of the true good guys in our sport.
Stay connected to NDBowling.com on Social Media:
Facebook
Twitter
YouTube