The final tournament of the 2013 calendar year was held at North Hill Bowl in Minot, ND. The annual 10 game marathon is looked at by many as a final tune up before the NDBowling.com Major Championship events begin in early 2014. The weather tried to play spoiler this weekend as Blizzard Warnings hampered travel in the area. The weather eventually cleared up by Sunday morning and 62 bowlers made the trip Minot for a long day of bowling.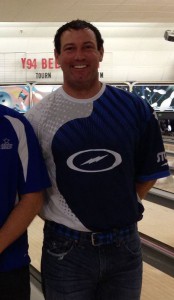 The tournament started shortly after noon local time. The lane pattern of choice was a modified abbey road. The only modification of this pattern was added volume to help the pattern stand up against the 10 game tournament. The pattern was playable earlier and later in the block, but the transition left many scratching their heads. The carry-down stage of the added volume pattern had bowlers making moves all over the lane and changing equipment frequently. The pattern held up nicely aside from the random pairs that had the track area burned so bad that bowlers were happy with a 180.
As was the case in prior years, the 10 game marathon always seems to go down to the final game to determine a champion. Last season, Matt Smallin used a big set games 7, 8, and 9 en route to the title. This season it was Eric Kempel. Kempel fired a 227 in his final game of the day to edge Tayler Wallstrum by 25 pins for the title. The win gives Kempel his 3rd title of the season. (Rapid City, NDBPA State Scratch Team, 10 Game Marathon)
NDBowling.com was created in October of 2012 and one of our first tournament articles surrounded Eric Kempels win in Rapid City. Kempel was quoted saying: "Winning never gets old". This quote has become a punch line for many jokes among bowlers in the region considering Kempels track record since then. Kempel has won 6 events since NDBowling.com was created. (Rapid City (2), NDBPA Doubles, NDBPA Team (2), & 10 Game Marathon)
NDBowling.com will be traveling to Winnipeg, MB this coming weekend for the annual Manitoba Open. The Manitoba Open is the first of four NDBowling.com Major Championships. Will Kempel continue to make headlines? Will Matt Smallin capture is second consecutive Major? or will Eric Parvey successfully defend his title? There are many story lines heading into this event. Stay tuned to NDBowling.com for updates following the qualifying round on Saturday, match play and final round on Sunday, and a full tournament recap on Monday.
Once again, congratulations to Eric Kempel for the win at the 10 game marathon! We will see everyone in Winnipeg on Saturday!