The 2016 edition of the NDBowling.com Kickoff Classic hurdled some unexpected conflicts. Buffalo Lanes in Jamestown, former home of the Kickoff Classic, announced earlier this month that they would no longer be the host for the event. With interest still high, Sunset Lanes in Moorhead, MN stepped in to save the event. With only 3 weeks notice, 39 bowlers showed up to compete for the $1000 top prize.

The lane pattern of choice was the 2011 USBC Open Championship condition. With a ratio under 3-1, bowlers were forced to make quality shots in order to post a decent score. Leading the way on Saturday was Matt Smallin with an 8 game total of 1773 (221.62 Average). The cut to the top 10 was Blake Wallstrum with an 8 game total of 1622 (202.75 Average).
Saturday Scores
The top 10 qualifiers returned to Sunset Lanes on Sunday morning for the Match Play round. Clayton Mohr of Alexandria, MN returned to the Kickoff Classic this year with redemption in mind. Last season, Mohr advanced to the stepladder finals on NDBowlTV, but fell short of the title match following a loss to Mike Morris in a 9th and 10th frame roll off. This season, Mohr claimed the top overall seed in the stepladder finals that would include Brad Nordick, Jeremiah Smith, and 3-time Major Champion Eric Parvey.
Here are the results of the stepladder finals.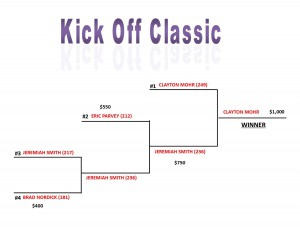 Congratulations to Clayton Mohr, the champion of the 2016 NDBowling.com Kickoff Classic! I would like to thank Darin Sundstrum and the entire staff at Sunset Lanes for hosting the event on such short notice. I would also like to thank all bowlers who traveled to compete in this event.
The Kickoff Classic will once again return to Sunset Lanes next season on October 28-29, 2017 so mark your calendars for another great event. This event will see a few added changes next season but expect the same great Kickoff Classic as the last 3 years.
Be sure to stay connected to NDBowling.com on Social Media as we will have several opportunities for fans to win some great items over the next few months!