NDBowling.com launched in the Fall of 2012 in an attempt to better connect bowlers and proprietors. Over the last 3 years, NDBowling.com has morphed into a one stop shop for everything bowling in North Dakota and the high plains. From tournament dates, results, news and updates, to live streaming bowling tournaments and scratch rankings. NDBowling.com has something for everyone. One thing that has never been talked about, however, is the underlying drive that keeps NDBowling.com going.
Growing up, I (Daren Seney) have always viewed the sport of bowling as a way for me to escape everyday life and participate in competition with good friends. While in the North Dakota junior bowling program, the passion that was created was based on winning and nothing else. We competed for scholarships at times, but the overall value of those scholarships amounted to the cost of a couple books in college. As a junior bowler, all I wanted to do was win and that fueled me to constantly work on my game. When I attended college and eventually graduated from the junior bowling program, a part of me changed on the lanes. Being a college student and not having a great deal of disposable income, my focus changed from simply winning to wanting to win for the money. It got to the point where I wasn't even having fun while bowling anymore. In 2011, I took a step back and decided to change the way I thought about the sport. I wanted to get back to focusing on nothing but winning. The 2011-2012 season turned out to be one of the best seasons I have ever had on the lanes. I made cut in all 3 Majors in North Dakota including a top 5 finish in one of them.
The transition from junior to adult leagues gave me new perspective on the sport of bowling. It made me realize that many, aside from myself, have gone away from simply wanting to win. Many people base their tournament choices on how much money is involved. This is understandable after the recent recession along with the steady decline in bowlers. I have always felt that the decline in competitive bowlers in our sport was directly related to the meaning to win. Why continue to bowl tournaments when winning simply gets you a few bucks and everyone will forget about it in a week?
This brings me to the Fall of 2012. NDBowling.com was created and it gave me a platform to change the way people think about the sport. I wanted people to have a desire to win. In order to do that, I had to find a way to add a perceived value to winning. Rather than bowling for the paycheck, I want people to bowl to win and because of what it means to win. I want people to bowl the NDBowling.com Majors with the desire to be the first to win all 4, or the first two time winner of the CMA Memorial Shootout…..ect. I want people to have the desire to earn enough points to be named to the NDBowling.com Team of the Year. Whatever tournament it may be, I just want bowlers to bowl to win, rather than bowl for the prize money.
For 3 years, NDBowling.com has continued to give bowlers a reason to bowl aside from the cash reward. Now, in 2016, NDBowling.com is adding to what it means to win the season's final Major, The NDBowling.com Classic. The Glen Hains Memorial Trophy will be awarded to the winner of the NDBowling.com Classic each season. The trophy was purchased and donated by NDBowling.com. The website will provide a new trophy each season to the champion of the seasons final Major. The trophy stands approximately 2 feet high and weighs a little over 14 pounds. The trophy will symbolize strength, courage, and achievement.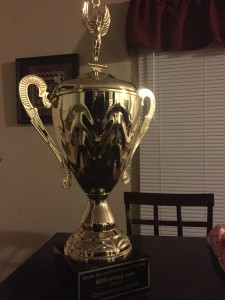 Glen Hains was the long time pro shop operator at Sunset lanes, the home of the NDBowling.com Classic. Glen passed away in 2001. He was admired by many and will now have a place in NDBowling.com history. I wasn't fortunate enough to personally meet Mr. Hains, but I have heard nothing but great things about the man in my 7 years living in Fargo. Glen Hains was a true bowling ambassador and paved the way for those of us bowling today. Creating this trophy is a way of showing my respect to a guy who did so much for the sport of bowling. It's clear that Glen Hains had the same intentions for the sport as I do. Grown the sport and bowl to win.
Be sure to sign up for the NDBowling.com Classic being held at Sunset Lanes in Moorhead, MN on March 5-6. CLICK HERE to visit the tournament's Facebook page.
Will you be the first to hoist the Glen Hains Memorial Trophy?