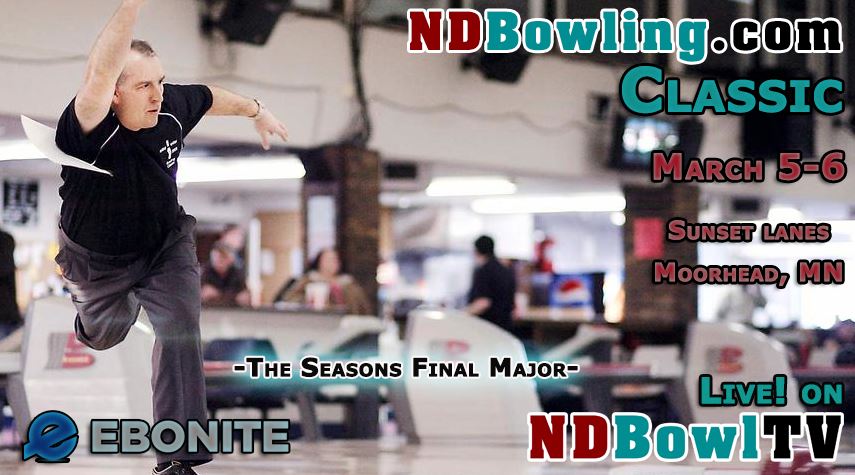 The NDBowling.com Classic is celebrating its 23rd year in the Fargo-Moorhead area. While the Classic has always been a premier event for local bowlers, the tournament has had its fair share of growing pains since the departure of WDAY/WDAZ news stations. Up until 2012, the NDBowling.com Classic was known as the WDAY/WDAZ Bowling Classic where bowlers would qualify at Sunset Lanes in Moorhead, MN or at what used to be known as Liberty Lanes in East Grand Forks, MN. The Sunday match play round would then rotate between the two sites each year with the Finals being broadcast live on the local ABC station.
After 3 years of declining participation levels, the NDBowling.com Classic is poised to return to a full or near full field of 96 bowlers this season. With the finals on NDBowlTV and a much welcomed date change to the first weekend in March, bowlers have shown full support for the NDBowling.com Classic and, as a result, the tournament will now feature one of the strongest fields in its history. Here are some of the most intriguing story lines heading into the season's final Major.
General Mills looks to capture 3rd Major of the season
In January, Andy Mills became the first bowler to win the Manitoba Open and the CMA Memorial Shootout in the same season. Now, Mills will take his first shot at the NDBowling.com Classic in an attempt to become the first player to ever win 3 Majors in a single season. This season, Mills has made it a habit of making NDBowlTV shows reaching the finals in 3 events covered by the High Plains Bowling Network (GPSC – Sioux Falls, Manitoba Open, CMA – Minot). With his continued success on the lanes in Majors and on NDBowlTV, we at NDBowling.com like to refer to Mills as The General. Whether you see him as a guy in great command on the lanes or a colorful bowl of cereal, look to see General Mills in contention this weekend looking for an unprecedented 3rd Major in 2016.
Classic will feature one of the strongest fields in its 23 year history
With the NDBowling.com Classic returning to a full or near full field of 96 bowlers, the level of competition has reached new heights. Currently, 72 bowlers have paid their entry to compete this weekend with that number expected to rise as we get closer to tournament day. Those 72 bowlers account for 39 Major Titles, several local and state hall of fame credentials, and 2 World Cup titles among many more accolades. The NDBowling.com Classic will feature some of the best regional talent including a few female entries who can compete with the best out there. The strong field of bowlers will be put to the test on a rather challenging sport compliant oil pattern. The NDBowling.com Classic will use either the Team event pattern or Doubles and Singles event pattern from this seasons USBC Open in Reno. Official tournament pattern will be announced on Friday.
Past Champions look to add another Classic title
The NDBowling.com Classic will feature 10 past champions in the field this weekend. Those past champions include: Ralph Hennebry, Dave Schick (3), Barry Zimmerman, Todd Iverson, Travis Hersrud, Mike Morris (3), Joel Galle, Adam Peters, Mike Schmidt, and Eric Parvey (Defending Champion). I expect a few of these bowlers to advance to the Match Play round and potentially make the finals on NDBowlTV.
NDBowling.com Classic to debut the Glen Hains Memorial Trophy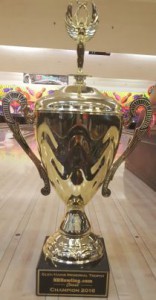 This season, the winner of the NDBowling.com Classic will take home the Glen Hains Memorial Trophy. Weighing in at approximately 14 lbs and standing a shade over 2 feet high, the trophy was created and donated by NDBowling.com in memory of local bowling legend Glen Hains. A new trophy will be provided to the winner each season compliments of NDBowling.com. Will you be the first to hoist the Glen Hains Memorial Trophy?
NDBowling.com's Bold Prediction
Final 5 (in no particular order) – Travis Hersrud, Matt Smallin, Mike Schmidt, Justin Schiffler, and Nick Heilman
Things to remember
– Qualifying round starts at 1 pm on Saturday. Check in by 12:30
– Qualifying leader will receive a FREE Ebonite Gamebreaker 2 compliments of Ebonite
– Based on expected entry numbers, top 24 will advance to the Match Play round on Sunday
– Please contact Sunset Lanes if you would like to sign up or have questions regarding the tournament (218-233-6153)
– Be sure to tune in to NDBowlTV on Sunday for an exciting stepladder final. (www.NDBowling.com/NDBowlTV) Show will start around 1:30-3pm sometime depending on pace of the Match Play round. Please follow us on Twitter for updates (@NDBowling).