The NDBowling.com Major Championship's will kick off January 9th in Winnipeg, MB. Chateau Lanes will once again play host to the Manitoba Open which will be conducting its 35th installment of the longest standing NDBowling.com Major. Melody Savage and her staff have once again provided a prize fund worthy of a multi-state/province drive to attend. With 89 entrants last season, the Manitoba Open will look to crack the 90 entry barrier this season. Here are some of the story lines heading into the seasons first Major.
Click Here for The Manitoba Open Facebook Group
7th Heaven for Schmidt?
Michael Schmidt will look to win his 3rd straight Manitoba Open title and 7th overall. Last season, Schmidt successfully defended his title by winning 5 consecutive games in the stepladder finals. Schmidt averaged 220.2 in the live stepladder finals on NDBowlTV which included games of 256 and 230 in the title matches vs Clayton Mohr. (Top seed must be defeated twice). This season, Schmidt will look to become the first bowler ever to win 3 consecutive Manitoba Open Titles. Daron Hansen won back to back titles in 2005-2006, and Michael Schmidt has won back to back titles twice in his career (2007-2008, 2014-2015). The success of the Manitoba Open has generated added interest and entries have grown over the last few years. With the field getting stronger each year, will Schmidt be able to continue his dominance at Chateau Lanes? Will Schmidt be able to add to his record 7 NDBowling.com Major titles?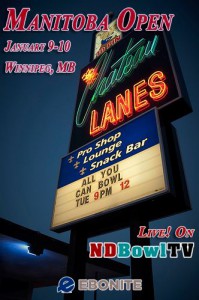 Mohr of The Same on NDBowlTV?
Last season, Clayton Mohr qualified as the top seed in all 3 NDBowling.com Majors that he participated in (Manitoba, CMA, KFYR). Mohr has also become a staple on NDBowlTV over the last year having qualified for the finals in 4 of the last 5 tournaments covered by the High Plains Bowling Network. Clayton Mohr has established himself as one of the best day 2 bowlers in the region. While successful in match play, Mohr has only been able to turn his match play success into a Major Title just once (2015 CMA). Mohr will look to continue his day 2 success in Majors at the Manitoba Open. A victory in Winnipeg would join Mohr with 4 other bowlers who have won both the CMA Memorial Shootout and the Manitoba Open. Could Mohr make it to 4 straight NDBowling.com Major Title matches?
Playing with Fire
This season, the Manitoba Open will be using Kegel's Beat'n Path oil pattern and will pair it with Kegel Fire Oil. The 41 foot Beat'n Path oil pattern generally favors the higher friction parts of the lane surface or the track area. Kegel Fire oil has a very high viscosity. The viscosity of the oil corresponds to its thickness qualities. While durable, Kegel Fire oil will oftentimes promote friction. Now take into account the bowling center. Chateau Lanes contains an older synthetic lane surface which also promotes friction. The x factor in all of this will be the volume of oil used. With qualifying being 10 games, players will see the heads hold up relatively well with the new fire oil, but will also be challenged to change their angles based on a variety of ball reactions and dependable friction down lane. It will be interesting to see the progression of this seasons qualifying round with the change to Kegel's Fire Oil.
The Manitoba Open is one of my favorite tournaments every year. The staff is welcoming and the tournament contains one of the best fields we see each year along with the CMA Memorial Shootout. The Manitoba Open is the only NDBowling.com Major that has a 10 game qualifier on Saturday. Having 10 games allows a bowler to recover from a bad game, but the skill level of bowlers in the tournament always make it a difficult cut to make.
For bowlers from the States: I know many have had troubles in past years with cell phone service plans in Canada. Verizon now has an international plan that will allow you to use your cellular device in Canada the same way you would in the States for only $2 per day. Contact Verizon to put this into place on your trip to Winnipeg. This will be useful for fellow Bison fans looking to follow the FCS Championship game on January 9th.
NDBowlTV will once again provide complete coverage of the stepladder finals on Sunday January 10th. Click on the NDBowlTV tab above to watch the live feed. Follow NDBowling.com on Twitter (@NDBowling) for live updates in regards to when NDBowlTV will go live.