The KFYR TV Bowling Classic is in its 30th year of existence. The past 30 years have provided champions of all ages and several memories that were all captured live on KFYR TV (local NBC affiliate). The KFYR is the only Major that is still broadcast on live local TV. The TV show and competition level have created a tradition unlike any other Major here at NDBowling.com. Here are a few story lines that will only add to the level of excitement at the 30th Annual KFYR TV Bowling Classic.
Parvey Looks for the Career Grand Slam
Eric Parvey currently stands as the only bowler to have won 3 of the 4 NDBowling.com Major Championships. Missing only the KFYR, Parvey will look to become the first player ever to hold all 4 Majors. Parvey came close to winning the KFYR in 2014 where he finished 2nd to Ryan Sandvick. Keep an eye on Parvey this weekend as he takes his second attempt at the career grand slam. A victory by Mike Morris or Mike Schmidt will join them with Parvey on the list of winning 3 of the 4 Major Championships.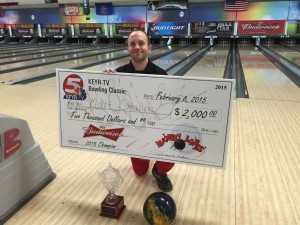 Smallin Tries to Make it 3 of 4
Defending champion Matt Smallin will enter the 2016 KFYR TV Bowling Classic looking to win his 3rd title in 4 years. In the last 3 years, Smallin has produced a 6-0 record on TV en route to his two titles in 2013 & 2015. However, in between those two titles was a missed cut in 2014. In his career, Smallin has either missed the cut on Saturday or made the TV show in every KFYR TV Bowling Classic that he has entered. It is often all or none for Smallin, so the Saturday qualifying round will tell the story for the 3 time Major champion.
Lane Condition Leaves Field Wide Open
The 2016 KFYR lane condition is a 2.92-1 ratio 41 foot oil pattern that is fairly flat in the middle of the lane. The pattern allows multiple angles of attack and allows players to play their comfort zones to score. The real question will be the transition. With players playing all different parts of the lane, the transition will likely be different than most are accustomed to. I predict that many bowlers will be able to score on this pattern early, but it will be the bowlers who aren't afraid to make a big move to different parts of the lane during transition that will find success towards the later stages of the qualifying round. I also feel like the left handers will have to get at this pattern early as the right handed bowlers will be likely pushed into 4th and 5th arrow territory by days end. Look to see a lefty or two on the TV show Sunday if they are able to sneak through the qualifying round on Saturday.
Nelson Chasing Record 4th KFYR Title
3 time KFYR TV Bowling Classic Champion Jack Nelson will look to win a record 4th title this weekend which would break the tie with John Juba for most KFYR Titles of all time. Nelson won the title in 1992, 1996, and 2008. A win this week would give Nelson a KFYR title in 3 different decades and 4 Majors overall. Only 5 bowlers currently have 4 or more Major titles and 3 of them will be in the field this week (Mike Schmidt, Dave Schick, and Mike Morris).
NDBowling.com's Bold Prediction:
Final 5: Eric Parvey, Eric Kempel, Matt Smallin, Michael Schmidt, & Thomas Wolf (No particular order)
The 30th annual KFYR TV Bowling Classic is bound to be very exciting. I think the lane condition allows for any bowler to have a good week and win this tournament. Tune in Monday for a complete recap of the event here on NDBowling.com!
Those in Western ND can watch the KFYR TV Bowling Classic on your local NBC Station on Sunday at Noon.