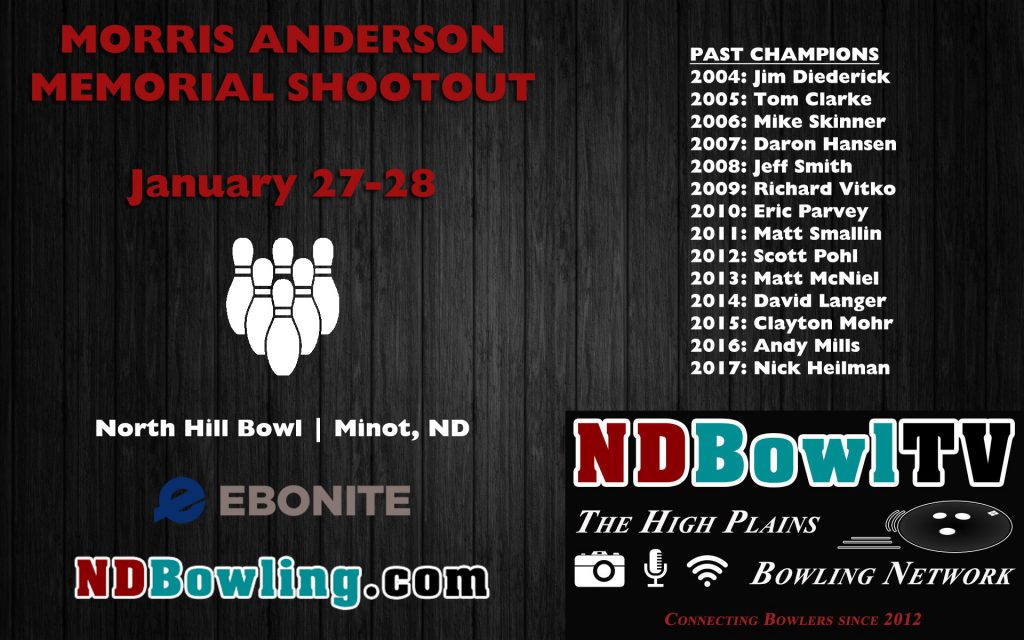 North Hill Bowl in Minot, ND will play host to the 15th Annual Morris Anderson Memorial Shootout this weekend. Most bowlers are fresh off a trip North to Winnipeg where a rather strong field bowlers were forced to make solid shots to compete. The conditions at the CMA Memorial Shootout will be no different. The talented field of USBC Eagle winners, past Team USA members, and Hall of Famers will be put to the test. Here are some of the story lines heading into the seasons second Major.
Toughest Test in the High Plains
The Morris Anderson Memorial Shootout continues to lead the way in providing the most competitive field out of the 4 NDBowling.com Major Championships. Bowlers with a laundry list of accolades travel from several states/provinces away to compete for the $5000 top prize. Not only does the field provide a difficult task for anyone looking to advance to Sunday's match play round, but the format also takes its toll on the competitors. With 36 advancing to the Match Play Round on Sunday, bowlers are split up into 3 groups of 12 for a round robin stint. The Morris Anderson Memorial Shootout is currently the only Major to contain a 12 game match play round. All things considered, many would say the Shootout is the most difficult Major to win and with 14 winners in 14 years, I would be hard pressed to say otherwise.
Left Side is Due
Defending Manitoba Open Champion Matt McNiel is the last south paw to win the Shootout. McNiel's Shootout victory in 2013 made it an even 5\5 split between left and right handers through the first 10 years of the tournament. Victories by Langer, Mohr, Mills and Heilman from 2014-2017 have given righties a 9/5 advantage. Fresh off his win at the Open, I expect Matt McNiel to contend for his second consecutive Major on Sunday and avenge a missed cut performance from a year ago.
Added Incentives add Twist
The 2018 Morris Anderson Memorial Shootout will feature a host of added ways for bowlers to earn a few bucks. The 300 game pot sponsored by Farmers Union Insurance will once again grow by $300 this season. The pot has not been claimed the last 5 seasons meaning the prize for shooting the first 300 game this season is up to $1800! A 300 game early on Sunday could net you more than the 4th place finisher on Sunday. Along with the 300 game pot, North Hill Bowl will celebrate 60 years in business by adding a few incentives for bowlers. First, the bowler who finishes in 60th place will earn a FREE entry into the 2019 Shootout. North Hill Bowl will also be awarding $60 for every game bowled that ends in 60 during the entire event. So bowling a 260, 160, or even a 60 game could net you some money. Will this incentive cost someone a spot on Sunday by going for the '60' game incentive? Take it from a guy who made this cut by one pin, go for the pins.
NDBowling.com Bold Predictions
Without the tournament pattern being finalized, these bold predictions may be a shot in the dark. I like to consider past performances at the Shootout, but I also like to go with the hot hand and those who have been bowling well. Here are my Bold Predictions for the 2018 CMA Memorial Shootout (In no particular order)
– Matt McNiel
– Nick Heilman
– Thomas Wolf
– Mike Allen
– Doug Wagner
Be sure to tune in to NDBowlTV on Sunday for complete coverage of the finals. Please SUBSCRIBE (its free) to our YouTube page to receive updates when we go live.