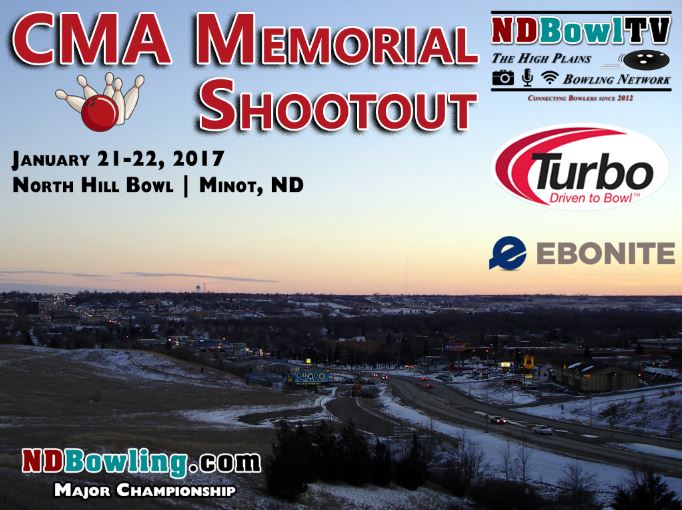 North Hill Bowl in Minot, ND will play host to the 14th Annual Morris Anderson Memorial Shootout this weekend. Most bowlers are fresh off a trip North to Winnipeg where a rather strong field bowlers were forced to make solid shots to compete. The conditions at the CMA Memorial Shootout will be no different. With a 2.19 to 1 ratio oil pattern, the talented field of USBC Eagle winners, past Team USA members, and Hall of Famers will be put to the test. Here are some of the story lines heading into the seasons second Major.
Similar Pattern, Similar Results?
In the words of Lee Corso, not so fast my friend. The pattern for the 2017 edition of the CMA Memorial Shootout will be familiar to those who bowled this event last season, but that doesn't exactly mean the results will be the same. Simply having a different draw on Saturday could change the outcome of the tournament dramatically. Last season, eventual champion Andy Mills started out the tournament 144, 163 and still managed to finish the qualifying block at +17. I do expect to see some of the same faces in the match play round as last year, but I also expect a few bowlers who missed cut last season to make the appropriate adjustments going into this weekend.
Will We See a Repeat Winner?
13 years, 13 different winners. The CMA Memorial Shootout has long produced a challenging tournament that has proven extremely difficult to win twice. Despite not having a repeat winner, a few bowlers have produced multiple final 5 appearances. Will we see a repeat winner this year, or will we see another first time Major winner? The last 3 Major champions have been first time winners (KFYR – Tad Schmidt, NDBowling.com – Nick Heilman, Manitoba – Wade Scott).
Few Changes, Same Great Tradition
The CMA Memorial Shootout has slowly developed a high plains bowling tradition unlike any other tournament. The atmosphere at the bowling center on Friday is pretty special for any tournament bowler. The tournament acts as a reunion for many entrants who travel from all over the upper Midwest. While the off-lane activities are fun, the competition is as intense as any tournament bowled in the region. Over 120 bowlers enter this event, and the top 36 advance to the match play round on Sunday for a chance at the $5000 top prize. While bowlers can expect the same great tournament experience this weekend, there is one change that bowlers should note. The 2017 edition of the NDBowling.com Challenge will include the qualifying round from the Shootout and the qualifying round of the NDBowling.com Classic on March 4-5, 2017. If you plan on bowling the NDBowling.com Classic please enter the NDBowling.com Challenge this weekend to help support the website and these two great tournaments.
NDBowling.com Bold Predictions
With the pattern being similar to last season, I expect the cut to be slightly higher this weekend. Last season the cut was -20, and I think this season will be in the -10 to +10 range. Here are my picks for the final 5 (in no particular order)
– Randy Peterson (***Edited prediction – Mike Schmidt will not be in attendance)
– Chad Nelson
– Jeremiah Smith
– Andy Mills
– Brady Stearns
Good luck to all bowlers heading to Minot this weekend. As one of the most anticipated events of the season, I expect a great tournament as well as an exciting NDBowlTV show on Sunday. Please tune in to NDBowlTV for the Finals on Sunday afternoon by clicking HERE
Call and sign up for the remaining NDBowling.com Major Championships!
Jan 21-22 | CMA Memorial Shootout | North Hill Bowl | 701-852-4108 **Limited to 160
Feb 4-5 | KFYR TV Bowling Classic | Midway Lanes | 701-663-0277 **Limited to 120
March 4-5 | NDBowling.com Classic | Sunset Lanes | 218-233-6153 **Limited to 96