Bowler Spotlight is a new NDBowling.com Series designed to increase bowler recognition and to help others get to know the faces of bowling in North Dakota. This multi-part series will run every other Tuesday and will include bowlers from around the state, as well as bowling centers, pro shops, and tournament event staffs. In the second part of our series, we traveled to the Carrington, ND to visit with another North Dakota bowling legend, Randy Peterson.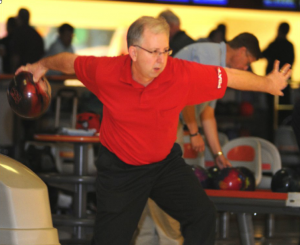 Being in the center of the state, Carrington, ND has provided Randy Peterson with the opportunity of attending as many tournaments as possible over his career. In doing so, Peterson has become a staple in North Dakota bowling. Through several team and singles accomplishments, Petersons career came full circle in 2011 when he was elected into the North Dakota Bowling Hall of Fame.
Randy Peterson
Hometown: Carrington, ND
Home Bowling Center: Central City Lanes
Occupation: Store Manager at SuperValu Foods
Career Accomplishments:
– North Dakota Bowling Hall of Fame (2011)
– Bowler of the Year: 1994, 2004
– 10 300 Games
– 7 800 Series
– 7 ND Scratch Team Event Titles
– 2 ND Scratch Doubles Event Titles
– 1 Forum All Star Classic Title
– 3 State Scratch All Events Titles (with corresponding trip to USBC Masters)
– 12th place at USBC Open Championships Team Event (ND Storm/Roto 2012)
– 6th place finish @ 2011 PBA50 Pepsi Open in Hammond, IN (Where the Bowlers Journal eloquently stated: "Harry Sullins easily rolls over Randy Peterson in the round of 8")
I asked Randy about some of his more memorable moments in his bowling career:
-"Meeting PBA announcer Randy Pedersen at a recent pro shop trade show and bowling against him for 25 cents per shot for over an hour (only lost $1.50) Wes Malott being my ball caddy as we were trying out new Storm/Roto Grip equipment."
-"Bowling next to Walter Ray Williams Jr. at the USBC Senior Masters and he rips the rack and leaves a 9 pin. I get up rip the rack and have a 9 pin standing and get a messenger off the wall to trip out the 9 pin, looking over at him and telling him that's how it done, as he busts out laughing because he is 500 pins ahead of me!"
-"Being the 5th seed going into position round at pba regional in Cedarvale Lanes in Eagan,MN, having to bowl 11thframe.com blogger Jeff Richgels, in which he leaves the 2-4-5-7-8-10 split. (hopefully he reads this, because I doubt he remembers it) Caught that one at the bottom didn't you Jeff?!"
Additional Comments from Randy:
"Because of bowling I have been able to meet so many people and make so many great friends! I love to travel and bowling has let me travel all over the United States to compete. I urge all bowlers to compete in as many tournaments as possible, and don't be afraid to go for the next level whether it's a scratch tournament or pba event." – RP
Upon getting to know Randy a little bit better, I learned many new things about an already classy guy. I have had the pleasure of bowling a doubles event with Randy a couple years back, and even though we didn't bowl the greatest, it was the most fun ive had losing in a bowling tournament. Regardless of how he is doing, Randy is a great guy to bowl with and a fun guy to be around. Randy continues to bowl and compete in the biggest tournaments around the state and has also created bowling events held at Central City Lanes in Carrington (See Upcoming Events Tab). Like Jack Nelson and many others in the state of North Dakota, Randy Peterson is an incredible talent and I hope many in the state get the opportunity to bowl with him like I have.