Bowler Spotlight is a new NDBowling.com Series designed to increase bowler recognition and to help others get to know the faces of bowling in North Dakota. This multi-part series will run every other Tuesday and will include bowlers from around the state, as well as bowling centers, pro shops, and tournament event staffs. This week, we traveled out to western North Dakota to get to know another North Dakota bowling legend, Phil Mann.
Growing up in Minot, ND wasn't all that exciting, but as an aspiring young bowler I seemed to always find a way to stay entertained. Many weekends were spent at the bowling alley with friends or working in the restaurant, but it was tournament weekends that I looked forward to the most. Being able to watch some of the best bowlers come through North Hill Bowl and compete on a regular basis was something I didn't want to miss. Watching these bowlers taught me many things that I still use while bowling today. Attending these tournaments also introduced me to pre-tournament grumblings. I got to listen to bowlers talk about the event, number of entries, and the other bowlers who were in attendance. More often than not, there was one bowler who's name came up quite a bit when he walked through the entrances of North Hill Bowl. That bowler was Phil Mann. It seemed as though everyone knew they would have their hands full each and every time Phil entered an event. As the years have passed, the only thing that has changed is that I am now bowling against him instead of being a young spectator. Still, to this day, many bowlers take note when Phil enters an event, including myself.
Phil Mann
Hometown: Hazen, ND
Home Bowling Center: Molco Lanes in Beulah, ND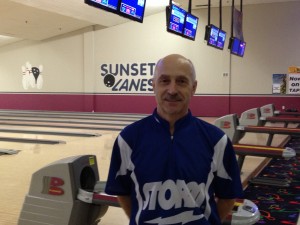 Occupation: Retired
Career Achievements:
– ND State Bowling Hall of Fame Member
– 3 time NDBPA Bowler of the year (03-04, 04-05, & 06-07)
– 3 NDBPA State Scratch Singles Titles
– 2 ND State Bowling Association Singles titles
– 2 NDBPA State Scratch Team Titles
– 1 ND State Bowling Association Team Title
– 1 ND State Bowling Association Scratch Doubles Title
– 2 KFYR TV Bowling Classic Titles (2003, 2012)
– 20 – 300 games
– 5 – 800 Series
Highlight of Career thus far:
There are several highlights that are memorable to me. My first 300 game bowled, then backed up with a 299 in Alexandria in 1988 done in a lower scoring environment, was very exciting.
Winning several state titles is something I am proud of.
Being elected to the ND State Bowing Association Hall of fame in 2004 is one of my proud and favorite bowling memories.
I would say, though, that winning my second KFYR TV title at the age of 56 is probably the single most highlight to date.
Why did you start bowling?
I started bowling at the age of 16 in the junior bowling program at Villa Lanes in Munich, ND. It was an activity that promoted socializing, having fun, with a bit of competition. Going to the Lanes every Saturday morning was something that I looked forward to very much.
Additional Comments:
Bowling is a sport that being a large, strong, and athletic person is not so advantageous like other sports. It enables someone with smaller stature and less physical strength to still be competitive. It is also an activity that with dedication, one can be competitive for many years. Being able to compete with the best bowlers in the state and region while in my later 50's is a great feeling. Probably my favorite thing about bowling is traveling to the several scratch singles tournaments in the area, and making the cut for match play more often than not. I plan on continuing to work at my game and stay in shape to be competitive, hopefully for many years to come.
One family memory that we laugh at is something that I will describe here. After bowling a 300 & 299 in Alexandria, MN, in 1988, I called my parent's home later that day to let them know. My mother answered the phone, and I said "Hey Mom, I bowled a 300 & 299 today". After about a 5 second pause, her response was "Is that good?" I simply replied "Put Dad on the phone".
Thank you for the recognition on NDBowling.com, and I look forward to seeing the many friends I have made through the years from bowling at upcoming events.
I have had the pleasure of bowling with Phil on numerous occasions and continue to be amazed at his passion and dedication to the game. Phil is a true competitor and a great friend to all bowlers. Being able to watch him run the ladder and win the 2012 KFYR TV Bowling Classic was inspirational to many, including myself. I, as well as many in this state, have a great deal of respect for Phil. I look forward to bowling many more events with him and encourage everyone to take the time to get to know him as well.
This will be the final Bowler Spotlight of the 2012-2013 Season. We will resume the series in September. Please tune in to NDBowling.com in the next few weeks for a special 'year in review' story. Thank you for visiting NDBowling.com!