Bowler Spotlight is a new NDBowling.com Series designed to increase bowler recognition and to help others get to know the faces of bowling in North Dakota. This multi-part series will run every other Tuesday and will include bowlers from around the state, as well as bowling centers, pro shops, and tournament event staffs. In the first part of our series, we traveled to the Bismarck/Mandan area to get to know one of the legends in North Dakota bowling, Jack Nelson.
Upon starting this series, I was excited to get to know some of the bowlers around the state. Between traveling around the state to events and running NDBowling.com I have gotten to know quite a few people, but its not every day you ask someone what they have done in their bowling careers. Now that I have that opportunity, what did I do? I asked one of the most decorated bowlers in North Dakota Bowling to tell me his story. Little did I know, or fully appreciate, exactly how much Jack has accomplished in his career.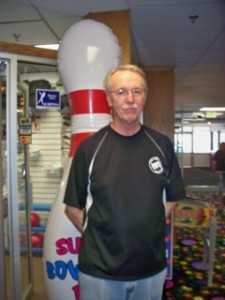 Jack grew up in Moorhead, MN and took up bowling because it was a sport almost anyone could excel at. Bowling doesn't require you to be the tallest or strongest person and Nelson felt as though he could compete with the best in the game if he put in the work. Jack now resides in the Bismarck/Mandan area where he is a Maintenance Supervisor and Pro Shop Manager at Midway Lanes. Jack has over 43 years experience on the lanes and with that comes a resume I could only dream of having. Jack continues to lace em up wih the best in the state year after year and continues to compete at a high level dispite recent health complications in which he has overcome. Jack has done so much for the game of bowling in North Dakota and continues to be a role model for young bowlers, myself included.
So with that being said, lets meet Jack Nelson.

Jack Nelson
Hometown: Moorhead, MN
Occupation: Maintenance Supervisor & Proshop Manager at Midway Lanes
Home Bowling Center: Midway Lanes in Mandan, ND
Years Bowling: 43 Years
Career Achievements:
– Team USA Member in 1988
– North Dakota Bowling Hall of Fame
– North Dakota State Tournament Wins:
Team (87 [State Record 3645 – 817 for Nelson], 88, 92, 95, 99, 00, 01, 10, 12)
Singles (85 [State Record 815], 89)
All Events (86, 92)
– NDBPA State Scratch Tournament Wins:
Team (96, 98, 99)
Doubles (82, 91, 96, 01)
Singles (94, 95, 96, 98)
– Other Tournament Victories:
3 – KFYR TV Bowling Classic Championships (92, 96, 08)
3 – CBA Titles (90, 93, 98)
UMBA Masters Title in 1989
2 Senior High Roller Titles in 2010 and a runner up finish in 2012
World Team Challenge Title in 1999
– ABC Tournament/USBC Open Championships History    
26 Year Average: 207
Notable Finishes: Team – 3rd (2010)  Team – 4th (1998)  Team – 6th (1999) Singles – 12th (769 series in 1993)
– 2002 ABC Senior Masters
Tied for 9th Place
High Amateur
High Ave for Match Play – 215.54 for 22 games (Professionals Included)
– Other Notable Achievements
CBA All Star Team in 1998
Earned over $14000 in CBA Events in his career
Upper Midwest Bowlers Assoc. Bowler of the Year in 1989
Upper Midwest Bowlers Assoc. All Star Team (87, 88, 89)
Multiple 300 games and 800 Series bowled
Additional Remarks:
"I wish bowlers could understand that if you really want to excel at the game, you have to work at it. You can't pick and choose which tournaments to bowl or what conditions to bowl on. You have to go to as many tournaments as you can and learn from your failures and successes. Bowl all the tournaments you can and you can sleep when you are dead"
— Jack Nelson
I would like to thank Jack for sharing his story with me. I hope other bowlers in the state will be able to fully embrace what Jack has done in his career. I look forward to bowling many more tournaments with him and I am sure many others feel the same way.
–Daren Seney