Bowler Spotlight is an NDBowling.com Series designed to increase bowler recognition and to help others get to know the faces of bowling in North Dakota. This multi-part series will run every other Thursday and will include bowlers from around the state, as well as bowling centers, pro shops, and tournament event staffs. This week, we traveled out to western North Dakota to get to know a bowling icon, Larry Kragh.
If you have ever bowled league in Minot, there is a good chance you have met Larry Kragh. Larry bowls multiple leagues each year and even makes an appearance on the annual CMA Memorial Shootout Telecast. With several bowling accolades, Larry has left a lasting impression on those in Minot and the veteran bowlers around the state. He may be a household name in Minot, but I'm sure many of our viewers don't event know who Larry is. With that being said, lets learn a little bit about him.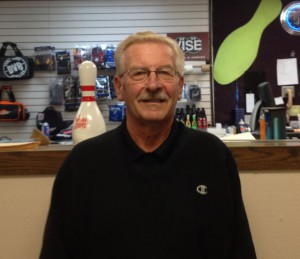 Larry Kragh
Age: 70
Hometown: Minot, ND
Home Bowling Center: North Hill Bowl
Career Accomplishments:
– North Dakota Bowling Hall of Fame Member
– Minot Bowling Hall of Fame Member
– State Scratch Singles Title
– State Scratch Doubles Titles (2)
– State Scratch Team Titles (4)
– State HDCP Singles Titles (2)
– State HDCP Doubles Titles (2)
– State HDCP Team Titles (3)
– Represented North Dakota at the Masters 5 different times
– Won back to back Big Three Tournaments and 2nd the following year (which has evolved into the KFYR TV Bowling Classic)
– 16 Career 300 Games (Has bowled a 300 in every decade since 1960)
– Multiple 800's (High – 817)
Why did you start bowling?
"My mother was an avid bowler and she used to bowl at noon hour from work. She would take me along and let me bowl on another lane. I started bowling when I was about 10 years old. It was about that time when Lois White took me under her wing. She was a top notch bowler in the state of North Dakota. There was no junior league so I started bowling men's league at the age of 16. I was hooked on the game and started working at the lanes. I then worked at Chateau Lanes and also North Hill Bowl. I worked in the pro shop at both Chateau and North Hill as well."
Highlight of your career?
"Being elected to the North Dakota Bowling Hall of Fame in the early 80's. Also, being on the 4 man team that held a national record for over 35 years. Bowled in many USBC Open Tournaments. Bowled well at the USBC Open in Las Vegas with my son Jeff Kragh, Mark Lewis and all of his college bowlers from Wichita State."
Additional Comments
"I have been married for 40 years to my wife, Kathy Kragh, who is also a member of the North Dakota Bowling Hall of Fame. I have 5 children: Stuart, Lenore, Jeff (ND HOF Member), Ryan and Chad. I retired from the railroad after more than 25 years on the job."
Growing up in Minot, I have had the pleasure of getting to know Larry pretty well. My childhood was often spent at the bowling center watching the better bowlers which included Larry himself. His game was simple but effective. I remember bowling in a junior league tournament at North Hill Bowl while watching Larry bowl on the KFYR TV Bowling Classic live telecast. I always enjoyed watching him bowl and see him do the trademark Larry two step on good shots where he really wanted a strike. Even today, I ,every once in a while, glance down at the other league on Wed nights and see Larry out dancing on the approach hoping for a strike. His passion and understanding for the game of bowling is something I have always admired. Away from the lanes, Larry is a great father and an all around great person. If you haven't had the chance to meet and visit with Larry, I highly recommend doing so.
Please comment and share your stories about Larry.
(Comments are limited to Facebook users due to increased spam activity on previous comment system)