Bowler Spotlight is an NDBowling.com Series designed to increase bowler recognition and to help others get to know the faces of bowling in North Dakota. This multi-part series will run every other Thursday and will include bowlers from around the state, as well as bowling centers, pro shops, and tournament event staffs. This week, we traveled to the capitol city to get to know a former Team USA Member.
When I started NDBowling.com Bowler Spotlight a little over a year ago, I knew that some bowlers would have more accolades than others. I was excited to get to know the great bowlers in our state and share their achievements and experiences with all of our viewers. I knew at some point that I would learn things about these bowlers that I have never known before. Each bowler that has appeared on Bowler Spotlight has surprised me with career moments that I could only dream of achieving. Well, this one is no different. Duane Sandvick has been a household name in North Dakota for many years. His accolades date back to before I was born and he continues to add to the list every year. Sit back, grab a beverage, and get to know one of the great talents in North Dakota.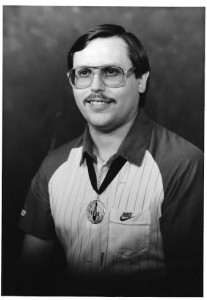 Duane Sandvick
Hometown: Mandan, ND
Home Bowling Center: Midway Lanes
Occupation: Drilling Fluids Engineer
Career Achievements
– 1986 Bronze Medal at National Finals
– 1987 Team USA Member
– 1987 Rigid Wrist 'ND Bowler of the Year'
– 1987-88 Upper Midwest Bowling Association Masters Champion
– 1989-90 Upper Midwest Bowling Association Player of the Year
– 1990 US Olympic Festival Participant (Silver Medalist in 3 Man Team)
– 1994 ABC Masters (13-16th Place)
– 1994 ABC Open Championship (12th in Singles Event)
– 1995 Central Bowling Alliance (CBA) 'Tournament of Champions' high qualifier – 2nd place finish
– 1995 & 1998 KFYR TV Bowling Classic Champion (Made 10 TV Shows in the tournaments first 17 years from 1987-2000 with 4 runner up finishes)
– 2 CBA Major Titles (Year End & Minnesota Masters)
– 1998 ABC Open Championships 4th Place Team (Minnesota Storm)
– 1999 World Team Challenge team title in Addison, IL (June – Minnesota Storm)
– 1999 World Team Challenge Finals in Virginia Beach, VA (9th Place)
– 1999 Mini Eliminator Storm Shootout 'Skins Game' ESPN Telecast (2nd place)
– 2000 Bismarck Mandan Bowling Association Hall of Fame inductee
– 2003 ND State Bowling Hall of Fame inductee
– 2005 ND Male Bowler of the Year
– 2005 Black Hills Classic title in Rapid City, SD
– 2006 Bolwers Journal Senior Titles – Singles and Doubles
– 2007 Bowling this Month Senior singles title
– 2010 ND State Scratch Doubles title with Aaron Petrowitz (2 Previous titles with Jack Nelson)
– 2011 USBC Open Championships – 4th place team finish (Minnesota Pepsi 1)
Other notable accomplishments:
– NDBPA Titles: Multiple team titles and 3 singles titles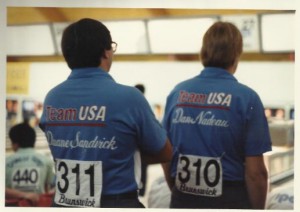 – ND State Open Tournament Scratch Titles: 1993 All Events and Singles, Multiple Team event titles
– 3 Bud Light Open Match Play titles held in Miles City, MT (3 Consecutive titles in 95-96 seasons)
– 3 Village Bowl Scratch Classic titles in Aberdeen, SD
– Bismarck Association City Titles: 2012 & 2013 Scratch Singles, 2 past doubles titles with Jack Nelson, and 1 past scratch all events title. Multiple Team event titles.
– 1 Dickinson Bowling Association Scratch Doubles title.
– 26 USBC Open Championship Appearances with a composite 201 average
Highlight of your bowling career thus far
1. 1987 Team USA Member – FIQ World Finals, Helsinki Finland (June 3-13) – 3 Man Team event Gold Medalist with Rick Steelsmith & Dan Nadeau. Established a 3 game FIQ world record of 756 with Steelsmith shooting the first 300 in FIQ World History. Qualified for top 16 match play at the FIQ World Event. Finishing 12th in the world among an international field of 220 bowlers.
2. My son Ryan Sandvick winning the 2014 KFYR TV Bowling Classic making Ryan and I the first father-son combo to win the prestigious event.
Why did you start bowling?
My parents were league bowlers and i became a big fan of 'Championship Bowling' and 'Make That Spare' at an early age in the early 60's. These bowling shows pre-dated the PBA and aired on TV every Saturday night. I started bowling in the Junior Bowling Association as a 6 year old. I was never really good at high school sports so I chose bowling and started bowling in men's league when I was a Sophomore in high school.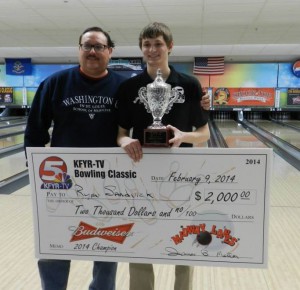 Additional Comments
I have many people in my life to thank including my parents and especially my wife, Cindy, and my children, Steph and Ryan. They tolerated missed social events, birthdays, ect while I traveled to bowling events in the 1990's and early 2000's. I want to also thank Jack Nelson, my long time traveling companion and team mate. I can't begin to compute the number of hours of drive and travel time we accumulated over the past 25 years. Special thanks to Jim Mellon of Midway Lanes for all the support, friendship, and encouragement he has given my family over the years. I can't leave out the wonderful bowling venue Jim offers us, Midway Lanes, my home house.
I want to pass along the following advice to any bowler who wants to improve their bowling and competitive skills:
1 – Never give up on yourself. Learn from your mistakes and poor performances.
2 – Practice, Practice, Practice. Open play, league and tournament play are essential elements in improving a bowler's skills
3 – Bowl tournaments. The only way to be able to perform when you need to in tournament play is to bowl tournaments. League and open play cannot duplicate the intense environment generated in tournament play.
4 – Finally, enjoy the game of competitive bowling! A bowler will never reach their true potential if they lack the passion and dedication it takes.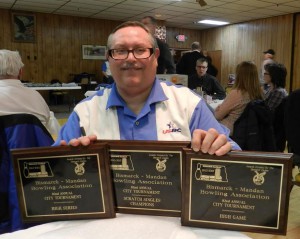 Like many of the other bowlers featured in NDBowling.com Bowler Spotlight, I have had the pleasure of bowling several tournaments with Duane. He has always shown class on the lanes and offered up words of encouragement to me at every event. I have always admired Duanes dedication to the game of bowling and his willingness to pass along his bowling knowledge. It takes a lot for someone to simply be a father, a husband, and provide for their family, but Duane has done all of that along with what was mentioned above. I would like to thank Duane for letting me learn a little bit about him and sharing his story with the NDBowling.com community.
Thank you for visiting NDBowling.com!
Please share your comments and stories about Duane!