Bowler Spotlight is a new NDBowling.com Series designed to increase bowler recognition and to help others get to know the faces of bowling in North Dakota. This multi-part series will run every other Tuesday and will include bowlers from around the state, as well as bowling centers, pro shops, and tournament event staffs. In the third part of our series, we traveled East to Fargo, ND to get to know Dave Schick.
When I moved to Fargo in 2005, I tried to acquaint myself with the bowling community in the area. Regardless of what bowling center I would go to, or the event I would attend, the same group of names would come up time and time again. One of those names was Dave Schick. Upon hearing his name, I decided to watch him bowl and possibly get to know him. My first impressions of Dave were that he liked to have a good time while he bowls, his game wasn't flashy and he didn't need to hook the lane to be successful. Regardless how he was bowling at the time, he would never give up and would never let it affect the guys around him if he wasn't doing so well. Dave was a classy guy on the lanes and a fun guy to be around off the lanes. Even after bowling in Fargo for 7 years, I was looking forward to getting to know Dave and how he got to this point in his career.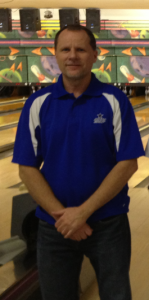 Dave Schick
Hometown: Fargo, ND (Originally from Des Moines, IA)
Home Bowling Center: West Acres Bowl and The Bowler
Occupation: Server Administrator at Sanford Health
Career Achievements:
– FM Bowling Hall of Fame (2011)
– FM Team of the year. (multiple years – dates unknown)
– WDAY/WDAZ Champion (1995, 1997, 2001)
– KFYR TV Bowling Classic Champion (1999, 2011)
– 1 CBA Title
– 5 State Scratch Team Titles
– 1 State Scratch Doubles Title
– 1 Forum All Star Classic Title
– 3 ND State HDCP Tournament Team Titles
– 1 Scratch All Events Title (Including awarded trip to the USBC Masters)
– 12th at 2012 USBC Open Championships Team event with ND Storm/Roto
– ND/SD Team USA State Amateur Champion 2001, 2002 (when the tournament was being held)
16 – 300 Games
4 – 800 Series
I asked Dave about some of the Highlights in his Bowling Career:
"From an accomplishment perspective, I would have to say the 2011 KYFR title was the most satisfying. I had a fair amount of success in the mid to late 90's but the birth of my son in 2000, and purchasing a small business in 2001 meant much less time for bowling. The frustrating part was, I didn't lose my competitive nature. It was a tough transition to get used to a certain amount of success, but not have the time to do what needed to be done to continue to bowl at that level. Winning a title as significant as the KFYR in 2011 after so many years of 'bowling ok', but not winning, was a big deal to me. That title has reenergized me and although I realize I will never have consistent success like I did 15-20 years ago, I look forward to each new opportunity to steal another title when nobody is looking. 
But some of the most memorable times for me during my bowling career have been the opportunities I have had to compete with professionals…or those who were soon to be professionals. I had the opportunity to cross with Sean Rash for 3 days of qualifying at Team USA in Reno. That was one of the most impressive things I've ever seen. I think I had as much fun watching him bowl as I did competing. And believe it or not, he was pretty quiet and very humble. Yup. I said humble.
I did get the opportunity to bowl in the 1994 US Open by qualifying through a CBA event. Although I did not make the cut for match play, they took the top 32 amateurs who did not cut for a single elimination match play event. I made it to the quarter finals before being destroyed by Chris Barnes, who had 279. It was pretty cool though to bring home a check for $400 from an event that I would have been happy just watching.
But by far, Robert Smith has to be my favorite bowling celebrity. I crossed with him at that same 1994 US Open in Troy, Michigan. He was an amateur at the time but bowled extremely well and made the cut pretty easily if I remember right. He was very approachable and talked the whole time we bowled. He was a genuinely nice guy and didn't change after several years of success at a professional level. I remember he was asked to be a guest speaker at a dinner for Team USA participants in Reno several years later. Maximum Bob was just as approachable then as he was several years earlier at the US Open.
One other memorable thing from that US Open…my favorite bowler for many years was Marshall Holman. I would have loved to meet him, but as we were finishing one of our qualifying blocks (I can't remember which one), he was walking by between the approach and the scoring tables. He had his head down and was carrying a two ball tote bag over his shoulder. He was letting the bag hit every scoring table as he walked by. Bang…Bang…Bang. I thought it best not to introduce myself and say hi. I didn't see anybody else trying to talk to him then either so I think I did the right thing."
I also asked Dave why he started bowling:
"My dad was a bowler. I never really bowled a lot in junior leagues growing up in Des Moines, but I loved going to keep score on his league nights. I would sit night after night, week after week, watching pins fall and keeping score with those yellow wax pencils. My dad would have to give me his towel to put under my hand so I didn't burn it on the hot scoring table. Then I would use that same towel to wipe the scores off after each game so they could start another. Smoke was blowing in my face all night long because everyone used the little ash trays at the scoring table to put their cigarettes in while they took their turn. I loved it though and wouldn't let my dad go to the lanes without me. I started bowling in one of those same men's leagues with him when I was 16 and have been bowling ever since. It's hard to even imagine how my life would be different without bowling. I have met so many people from just about every walk of life you can think of. The best friends I have are because of bowling. I wouldn't trade them for anything….well maybe except for Greg Gussiaas on my Tuesday night team at the Bowler. Don't tell him though. He thinks I like him. :)"
Over the years, Dave has seen many changes but has proven with the 2011 win at the KFYR TV Bowling Classic that he will always be able to compete. On our current list of NDBowling.com Major Championships, Dave is currently tied with Jeff Smith with the most Major Championship victories with 5. (Full list to appear soon on NDBowling.com) Dave is a great guy on and off the lanes, and I encourage those who don't know him to take the time to do so. I promise he wont be walking from lane to lane letting his bag hit every scoring table in the bowling center.